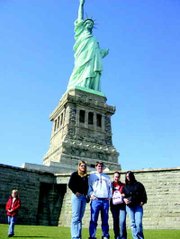 NEW YORK CITY - A spring vacation to New York City has left the four members of the Bickleton High School senior class a little overwhelmed and some wanting to make a return trip to the Big Apple.
The students toured the city during their April break, visiting Ellis Island, standing in Time Square, attending a Broadway show and even visiting a wax museum.
But for Amber Bennett, restaurants were the best part of the trip.
"Being able to just walk out of the door and there would be tons of places to eat everywhere was exciting," she said of her week-long stay to the Big Apple.
Annie Hess, class president, said New York pizza was her favorite part of the Bickleton students' New York City adventure.
"And walking around Times Square at night," she added.
But if I ever go back to New York City, I will definitely see a Yankees' game," she added.
Hess said the Bickleton classmates enjoyed the many bus tours of the cities, which included a stop at Times Square and seeing "Phantom of the Opera" in a Broadway theater. Even riding on the New York subway was a thrill for the Horse Heaven Hills teenagers.
But Hess said being interviewed by Al Roker of the NBC "Today Show" was among the biggest thrills for the quartet.
"We held up a sign and he stepped over and talked with us," she said.
Also on the trip was Bryan Whitmore, who said flying to New York was his favorite part of the senior trip.
"I had never been on a plane before and I really enjoyed it," Whitmore said.
Senior Signe Jarvis said if she ever has the opportunity to return to New York she wants to do a more thorough tour of Greenwich Village.
"I loved walking around and seeing all of the lights," Jarvis said.
While the suggestion of living in New York City was only greeted with a slight nod, Hess said Bennett really was the only one of the four who could see herself living there one day.
"If I could ever go back to New York, I would stay longer and really get the feel of what it would be like to live there," said Bennett.
Hess offered a different view.
"Being in New York is like being in a canyon of buildings. You can't see the sun and I like the sun," said Hess.
But all in all, she said, "It was a neat experience."