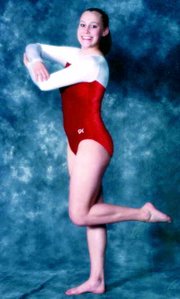 WOODINVILLE - Jamie Zylstra, 14, of Sunnyside completed the 2005 gymnastics season at the Northshore Gymnastics Invitational, staged in Woodinville recently.
The daughter of Johan and Ginnie Zylstra of Sunnyside, her best score at the meet came on the balance beam. The Woodinville judges rated her performance on the beam a 7.75.
In the vault, Zylstra received a 7.6 from the judges. Her routine on the bars earned her a 7.0. Zylstra faltered a bit in the floor exercise, scoring a 6.0.
Her all-around score of 28.35 kept her from placing.
Zylstra, a freshman at Sunnyside High School and a member of Yakima's Gymnastics Plus team, may have been competing in her final meet ever. Her mother explained that the 14-year-old recently went through a growth spurt, "...which isn't very conducive to the world of gymnastics," she said.
&nbsp