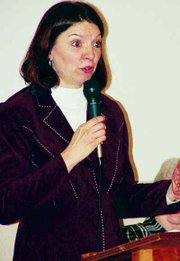 PROSSER - A self-proclaimed hater of shopping, Kathy Murphy of Bellingham had a deal with her husband when they first started having children.
"You will buy for the boys and I will buy for the girls," was the agreement, she shared with members of the Lower Valley Christian Women's Club this past Monday afternoon.
The deal worked out to benefit Mrs. Murphy for the first two children, two boys. Then came a girl, another girl, and at about that time the oldest son decided to get married. Two grandchildren later, two girls, and Murphy has found that she does most of the shopping in the family when it comes to holidays and birthdays.
"I want to be a good shopper," she said, saying that often she doesn't pick out the right gift for her daughters.
Her husband, on the other hand, can walk into a store, grab something, anything off the shelf and it will be the perfect gift.
But, Murphy has learned that shopping for her oldest daughter isn't as hard as she thought.
"I just have to pick something out that can be worn on her body, in her hair or on her feet and have it be something I wouldn't be caught dead in," said Murphy. "She loves it."
The youngest still loves dolls.
"I decided a long time ago that I would allow my daughters to be little girls for as long as they want," she said.
She told the Lower Valley women's club that dolls are a companion for her daughters, and that dolls remind her of two little girls.
The first little girl, she said, came from a fairly traditional family who cared for her. She had two sisters, a grandmother and a guinea pig. The girl would play in a nearby creek and loved to climb her favorite maple tree.
Murphy continued, saying one year the girl's mother took her to the city for her birthday. Taking the girl for the first time to a toy store, she let her pick any toy she wanted for her birthday, said Murphy.
While walking toward a shiny, blue bike, the girl spotted a small doll on the shelf. The Jenny doll had brown braids, a circle skirt and patent leather shoes. The girl chose the doll as her gift.
Spending a lot of time with her grandmother, the girl learned to sew, pull taffy and pray. Every Sunday the young girl was with her grandmother, the woman would take her to church.
"It was a good life," Murphy added.
The second little girl was abandoned by her biological father at the age of four, said Murphy. The girl also had a doll that she dearly loved.
The girl's mother remarried when she was five, but the family was uprooted numerous times.
Moving from home to home, sometimes in the middle of the night, fear gripped the youngster as she often had to change schools.
During one of the late night moves, the doll was left behind. Losing the doll devastated the girl.
Murphy said the stories of the two girls are two of the different sides to her life.
"We are three different people. We are the person we think we are. We are the person other people think we are and we are who we really are," she said.
She said people in life will let us down, but Jesus is someone who will never let us down.
Murphy said as she grew older she became aware of a huge devastating flaw in her life.
"It made me feel ugly and unlovable," she said. "I became aware that I was not really the person others thought I was."
It was while she was attending Sunday school with her grandmother that she learned about God, but Murphy said she didn't care about God, she wanted to live her life her own way.
"All I cared about was Kathy," she said.
Her me-first philosophy in life gave her no peace. Although she saw it as freedom, she learned that she was actually a slave. A slave to Satan, she said.
One day after wrestling with her own selfishness, Murphy remembers asking her adoptive father if God could forgive anything. After he answered that God could, Murphy went to her bedroom and asked God for forgiveness.
Although life has still had its share of struggles, including being estranged from her parents, Murphy said that God helps her through those times.