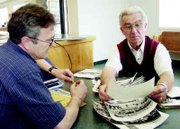 The history of a community is often found in the photographs of common events, such as ribbon cuttings for new businesses, community celebrations and school activities. Sunnyside residents have an opportunity to have their photos preserved for generations to come between the covers of a keepsake book being published by the Daily Sun News and several community partners.
"We are now preparing to publish volume II of A Pictorial History of Sunnyside, Washington," said Tim Graff, the Daily Sun News publisher.
The first Pictorial History of Sunnyside, Washington, published in 2002, focused on the early history of Sunnyside. Graff said Volume II will be focused on the period of Sunnyside's history covering the 1940s, '50s and '60s.
He said Sunnysiders are invited to share their photos at public scanning sessions to be held Thursday, April 21, and Friday, April 22, from 4 to 7 p.m. at the Holy Trinity Episcopal Church. A third scanning session will be held Saturday, April 23, from 2 to 8 p.m. at the Daily Sun News office, 600 S. Sixth Street.
Graff asks that people submitting pictures include a brief description of the event being portrayed. "We are hoping for a good representation of all segments of the community," Graff said.
"We are looking for photographs of families working, of agricultural activities, irrigation scenes and just any photos of general interest," said Graff.
Graff said he hopes to begin presales of the book in May, with the book scheduled for release near the end of July or early August.