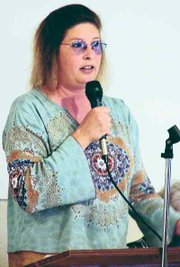 PROSSER - For the past two years Kelly Wiegers has been able to operate her 1,500 square-foot greenhouse on Wilgus Road in Prosser as a full-time nursery.
Wiegers, who has a degree in greenhouse management and horticulture, spoke to members of the Lower Valley Christian Women's Club this past Monday afternoon about different herbs she keeps in stock. The former greenhouse manager for Columbia Crest Winery, Wiegers specializes in unusual herbs and perennials.
Propagating all of her own plants, Wiegers said she is constantly on the lookout for new and unusual herbs and perennials for her customers.
Several of the herbs she sells are commonly used for medicinal purposes.
"But you always want to check with a physician before you use herbs," she cautioned.
One of the plants she sells is dusty miller, a common, silvery leafed annual. The dusty miller she carries is an herbal perennial.
"At one point it was used to relieve cataracts," she shared.
Another herb she finds is popular is epazote, an annual Mexican herb that is commonly used in cooking refried beans. The pungent herb is a low dose botanical antiparasitic and relieves gas, she said.
The feathery leaves of the salad burnet is a pretty addition to a salad. With the flavor of a cucumber, Wiegers said the plant is also a nice addition to an herb garden.
Cutting celery is also a great addition to a salad, said Wiegers. The biennial plant is just like celery, but with smaller stems. She added that it freezes well for use in the winter.
A tender perennial, stevia is an herbal alternative to sugar.
"Dry the leaves, grind them and add it to coffee, or whatever you're making," said Wiegers, adding that it is a sweetner that diabetics can use.
A new addition to Wiegers' collection of unusual herbs is mountain mint, an herb commonly used in potpourri and incense. Medicinally, it can be used for indigestion, fevers or to regulate the menstrual cycle, she said.
One of the herbs Wiegers always has on hand is basil. With at least 10 different varieties available at her nursery each year, there is basil for every need.
An annual Genovese basil is a large leafed basil from the Genoa area of Italy. The basil can be used both fresh and frozen.
"Basil connoisseurs believe it's the best," said Wiegers.
The sweet Petra dark, also an annual, has dark red leaves. The basil has a sweet flavor.
An herb used by Native Americans as smudge sticks and incense is white sage. Wiegers said the Native Americans would gather handfuls of the tender perennial and use it.
New to her greenhouse last year, Wiegers found some of her customers were especially excited to find rue plants. Used in Hispanic culture for stomach problems, it is also one of the oldest plants to ward off infection, nasty spirits and fleas.
Chinese wild yam is a perennial vine grown from tubers. The tubers are a nutrient tonic, but are also used for treating nerve pain, bed wetting, irritable bowl and diarrhea, she said.
"The Chinese wild yam is hearty for this area," she said. "It looks like a house plant."
Wiegers said that a common plant she is asked for is cilantro, but the tender leaves don't handle the summer heat of the Lower Valley. Instead, she has found culantro, an annual with the flavor of cilantro. The slow growing plant likes shady areas.
Also similar to cilantro is papalo, which has a flavor similar to cilantro and arugula, but is used like cilantro.
During the growing season, which is May 1 through Oct. 31, Wiegers said she also has a couple different varieties of lemongrass. She carries ephedra Vietnamese coriander and Moroccan mint.
In the fall, Lil' Pum-ke-mons, small white pumpkin with vertical orange stripes, are available at her nursery, as are kakai pumpkins, which produce hull-less seeds, which are great for roasting.