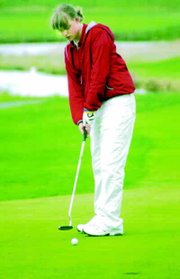 With none of the five Lady Grizzly linksters able to get under the 120-mark, Sunnyside's girls golf team was bested by both West Valley and Hanford yesterday at a four-school match staged at par-72 Black Rock Creek Golf Course.
West Valley, which received a pair of 89's from Betsy Yergen and Ashley Filliol, bested the field with a team score of 373.
Hanford, paced by Kaitlin Hubele's 94, finished second with a team tally of 409.
Sunnyside, getting balanced scoring with individual scores ranging from 120 to 137, settled for a third place finish with a team total of 511. Prosser had an incomplete team, as only two girls competed Tuesday afternoon.
Although Sunnyside was far back of both West Valley and Hanford, two of the Lady Grizzlies stepped up their games Tuesday. Freshman Dacia Drollinger, carding the low Lady Grizzly round with a 120, posted her best 18-hole round ever. She toured the front nine with a 59 and scored a 61 after the turn.
"It was four strokes better than her previous best," said Sunnyside Coach Gary Rohde. "She's showing improvement."
Sunnyside's Nicole Southern also clipped strokes from her previous outing, shooting a 137 on front and back nine scores of 69-68. "That's four strokes better than at last week's match at Apple Tree," said Rohde.
Second in for the Lady Grizzlies was Megan Downing. She posted a 122 on front and back scores of 56-66. Vicky Castro turned in the third low score for Sunnyside, a 132 (68-64).
Sophomore Christine Kim also competed for Sunnyside yesterday, but her 140 (65-75) wasn't applied to the team total.
Prosser's two golfers, Genna Dufault and Elizabeth Wierenga, only golfed the front nine. Dufault shot an 84 and Wierenga an 87.
The Sunnyside High School girls golf team is scheduled to compete at a prep invite at the Pendleton Country Club Thursday, April 21.