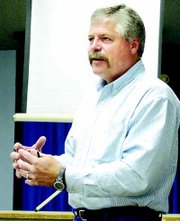 In 2003, local farmer and businessman Ted Durfey was able to participate in a study to determine the use of alternative energy in relation to agriculture.
Durfey spoke to members of the Sunnyside Kiwanis Club Thursday morning about the study by the University of Washington on the use of biosolids, a ground nutrient made from treated human waste, on canola. The canola is a non-edible version used to make biofuels.
"I knew nothing about canola," said Durfey of the first year he grew the crop. He said he didn't even know how the plants produced seeds.
"Like a farmer I thought the seeds were in the flowers, but they come from a seed pod," said Durfey.
This year marks the third that Durfey is growing canola. He said one of his goals is to produce a three-year standard to base crop insurance on.
To start the project, biosolids were applied to a 30-acre test plot that was divided into 100-foot by 56-foot blocks. Each of the blocks was growing a different variety of canola. At the last minute, Durfey shared, an extra piece of land next to the test plot was prepared and planted, but wasn't fertilized or irrigated in the 2004 growing season.
After the seeds were harvested they were weighed and taken to a pressing plant at the University of Idaho. Durfey said the results were amazing. The plants growing in the deficit water areas produced more seed and oil.
"We have a crop that can get by with very little water," he said. "We're getting better results with less water and less fertilizer."
Durfey added that there is very little need for herbicide.
He said this is especially important in drought years when water that would have been used on the fields that are now growing canola can be diverted to other water intensive crops he is growing.
Durfey feels the study of biofuels is important as the country becomes more dependent on foreign countries for fuel and as more and more high dollar crops are being grown overseas.
"We had the luxury of having high dollar crops in the past," said Durfey.
He explained that with Simplot moving its potato operations to China and asparagus going to Peru, there is a need to look at alternative crops.
He said that studies have shown that if every idle acre of farmland was planted in a biodiesel crop, there would be enough biodiesel for 15 percent of the United States consumption.
"This product will never be over supplied," he said.
Canola can be one of those answers, he stressed. A crop that uses higher trained laborers, he said that it could be a boon to the Lower Valley economy.
"We can develop a farm product that's sustainable," said Durfey.
Currently, he is working with the Port of Sunnyside to bring in developers interested in setting up a small biodiesel plant.
He said the highest yield of canola was about 146 pounds per acre. With a market value of 10 cents a pound, he said the income is better than for wheat.
Another advantage is that the deep-rooted canola reduces weeds and breaks up the soil and hardpan. It can also be an answer to removing productive farmland from the Conservation Reserve Program, which has the federal government paying farmers not to farm.
Durfey said that the break-even cost to create biodiesel is between $2.20 and $2.40 a gallon. He explained that currently someone with a diesel vehicle can run a fuel mixture with 20 percent biodiesel without making alterations to a vehicle. To run 100 percent biodiesel, a diesel vehicle owner would have to change the pistons in the motor.