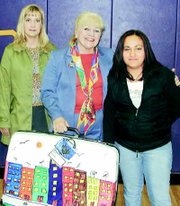 MABTON - Colorful city skylines, patriotic American flags and inspirational rainbows decorate the 20 suitcases recently given to the state Children Protective Services (CPS) Division.
The suitcases, all the creations of Mabton Jr./Sr. High School resource room students, will be used by children in the state's foster care program, according to Dorene Perez of the Sunnyside CPS office.
Under the direction of Mabton teacher Betsy Desmarias, the students collected and refurbished the suitcases for the "Love Luggage" project.
"We hope the project will eventually lead to the end of the sad image of children walking away from their home with all of their belongings stuffed in a brown paper bag or plastic grocery bag," said Desmarais.
The suitcases will be given to foster children who sometimes move between families while in state care, she explained.
The Mabton students sanded, cleaned and decorated the hard-sided suitcases for the project during the past school year as a community service project.
"This is the second year we have done this particular project," said Desmarais.
"A lot of people have hard-sided suitcases they don't use any more," said Desmarais. "This is a wonderful cause and I can't think of a better use for old suitcases you don't want any more," she added.
Desmarais is already collecting suitcases for next year's Love Luggage project. She said anyone wishing to donate suitcases to the project may call her at 894-4951.