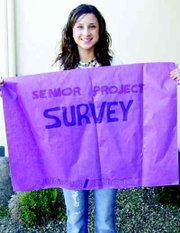 1-Column
Attending prep games expensive
I am writing this letter in response to Wednesday's letter to the editor titled "Support boys soccer."
I agree with the author, but not only should the community support boys soccer, but other school extracurricular activities as well. As a community we should show our support for students participating in productive programs, such as sports, instead of spending time doing negative things. With more community support, we can encourage more students to try out and become part of a team.
However, one reason parents and community members may not attend is the fact that going to these events can get expensive. We have to remember not all of us can afford these extra expenses. For instance, if you go out and watch a game with your spouse and three children, plan on spending a good $20 per game just for admission.
With soccer in mind, consider this: there are seven home games for boys soccer this season. For this family of five in particular, at $20 a game that is $140 for the season, just for home games. These costs are only for one spring sport. What if you were a community member who wanted to watch fall and winter sports, as well? Multiply $140 times three, that's $420 for home games.
Perhaps in an effort to get more community members and parents to attend games and other school extracurricular activities, the high school should consider having a community day where one game a season is free, or have a community member season pass or yearly pass at a reduced rate. Hey, why not even a reduced yearly family pass?
Attending games on a regular basis can be a burden to some families that have children participating in them.
/s/ Irma Ramos and family, Sunnyside
More like this story