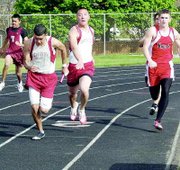 GRANDVIEW - Grandview High School track fans went wild Thursday afternoon several times, cheering on the home team in some of the tightest races of the season. The Grandview boys defeated Toppenish, East Valley and Naches Valley.
Leading the Greyhounds was Cordero Cisneros, who clocked first place finishes in the 400-meter, 800-meter and 1,600-meter events. He also helped pull out a win in the 4x400 relay, contributing the final leg of the race. The Greyhounds finished the relay with a clocking of 3:32.9.
Grandview fans cheered as Cisneros finished the last lap of the 1,600 just seconds before East Valley's Caton. Cisneros clocked a time of 4:55.4. Also a close race was the 400, when Cisneros clocked a time of 52.3. Simmons from Naches Valley placed second with a clocking of 54.4.
Cisneros blew away the competition in the 800-meter event. He clocked a time of 2:01.9, 14 seconds faster than the second place finisher.
Also a close race for Grandview was the 4x100, in which the home team placed third. Less than a second separated first and third place. The Grandview team clocked a 46.3 finish.
In the 300-meter hurdles Juan Razo took second place honors overall with a clocking of 42.0 in a close race. Placing first was Toppenish's Peters with a time of 41.6.
Greyhound long jumpers Silas Hansen and James Vela placed second and third, respectively, in the event. Hansen had a 17-10 effort and Vela a 17-5. Placing first in the event was East Valley's Corral, who had a 19-8 effort.
In the shotput Grandview hurler Cody McMillan came in second with a 45-11 effort. He came in behind Naches Valley's Hatten, who had an impressive toss of 50-3. McMillan was first in the discus with an impressive 121-8 effort. Coming in second was Toppenish's Ramirez, who had a throw of 114-11.
Greyhound high jumper Noel Hinojosa tied for first in the event with a leap of 5-8. Simmons of Naches Valley also had a 5-8 effort.
Grandview triple jumpers also placed among the top rankings at the meet. Josue Schneegans was second with a jump of 37-9 and Hansen placed third overall with a 36-9 1/2 effort.
The smaller Lady Hound team didn't fare as well going 0-3 at the meet.
The ladies were able to pull out a first place finish in the 4x400 relay in a neck-and-neck race with Toppenish. The Lady Hounds clocked a 4:32 finish, just a second before the Wildcats.
In the 4x200, Greyhound relayers placed third with a time of 1:59.
In a race coming down to tenths of a second, Grandview's Kealey Johnston placed second in the 400-meter event with a clocking of 1:03.9. First place went to East Valley's Mohsenian, who clocked a time of 1:03.7.
Johnston also placed third in the triple jump with a 31-0 leap.
Grandview's Kara Stanton placed second in the 100-hurdles with a clocking of 17.9, three-tenths of a second behind first place finisher Gregson of East Valley. Stanton also placed second in the 300-hurdles with a clocking of 52.4.
Grandview pole vaulter Akane Tomizawa was third with a 6-0 effort.
.