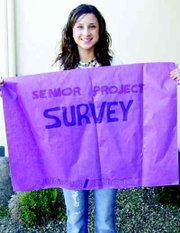 What do Sunnyside teens think about sex? Who do they discuss it with? Who is most effective speaking with teens about sex?
These are a few of the questions Sunnyside High School senior Andrea Phillips asked in a random sampling of juniors and seniors over a four-day period at Sunnyside High School just before spring break. The students who filled out the survey were able to remain anonymous.
Phillips' survey of fellow students is part of her senior project.
While some seniors at Sunnyside High School are taking their senior projects as an opportunity to learn a new skill or about a specific field of interest they most likely won't pursue, Phillips wants to learn more about psychology, a science she plans to study at Gonzaga University.
Although she hopes to one day be a marriage counselor or work with troubled teens, Phillips said psychologists, who study people and relationships, can be counselors or some write and administer surveys.
"I chose psychology (for my senior project) because I wanted to learn a little before I go off to college, but I couldn't counsel anyone because I don't have any training," she said.
So, she put together a survey that has already drawn the interest of several community leaders. The survey about teen sex and pregnancy was developed by Phillips with the help of her high school history teacher, Pete Marquez.
"I wanted to find something that everyone has an opinion on. I chose it because it's an issue and it's something you can talk about and have an opinion on," said Philips, the daughter of Krys and Yolanda Phillips. "If I were to do my survey on basketball, a lot of people don't know basketball, so they wouldn't have an opinion."
What she found out is that teen pregnancy is a big issue at Sunnyside High School, although she is not focusing on the results of the survey for her senior project, explaining that not being taught how to read a survey, she doesn't feel right coming to a conclusion.
"At Sunnyside High School, 54 percent thought it is a serious issue," said Phillips. Forty percent believe it is moderately serious and 6 percent feel it isn't serious at all.
But it is some of the other questions on her survey that have drawn the interest of members of the school district's sex education committee. The committee, which was formed last fall, was presented the findings of Phillips' survey at a recent meeting.
Sandra Linde, a member of the committee, brought the survey to the group and her daughter Kristy presented Phillips' findings.
"What amazed me was the question, where kids get their sex education from," said Linde.
According to Phillips' survey, 28 percent of the teens answering the survey learned about sex from friends, 26 percent learned from school, 24 percent from the media (news, movies, television, etc.) and 22 percent from parents.
"I'm surprised that it's so even across the board," said Linde, who added that she feels the students' parents are the best source of sex education.
"We really want (sex education) to be from the parents in support of the values of the family," said Linde.
Linde, who works with a cooperative teen moms program through Sunnyside Community Hospital and the Sunnyside School District, said another question she found interesting was one that asked students what would keep teens from being sexually active and getting pregnant.
The majority of the students surveyed, 71 percent, said parents should speak frequently with their children about sex.
"Working with my teen mom population, I've heard more than once that teen moms wish their parents had talked to them about sex," said Linde.
Linde said she also hears from mothers with pregnant teens, who tell her they often don't know what to say and feel they haven't been a good example to their children.
Linde said whether or not a parent has been a good example, they should still speak to their children about sex.
Although Phillips didn't go into the survey project to begin a deep study of the students at the high school, she said she has learned a lot about sex at the high school.
What she has learned, she said, is that it's a parent's example that is important when talking to their kids.
"My own personal opinion is to set a good example," said Philips. "When you act, people watch and you may affect someone. Like my Granny would say 'A leader's most powerful ally is his or her own example'."
For Phillips, who doesn't support the practice of sex before marriage, it comes down to morals.
She said whether or not she is taught about sex in school, it's not going to change her opinion about sex before marriage.
"If they put more sex education in the schools it wouldn't affect me," she said.
It's opinions like Phillips' that interest Linde, a proponent of abstinence and a big believer in parents speaking to their children about sex.
Phillips' survey, she said, did just what she wanted it to do. It got people talking about sex, sex education and teen pregnancy.
"A lot of people don't bring it up very often," she said. "Maybe that's why it's a big deal because people don't talk about it."