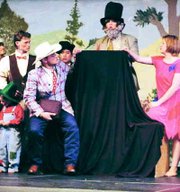 GRANDVIEW - As the lights in the gymnasium went dark last night, the stage at Grandview Middle School was brought to life with colorful characters from Dogpatch, USA. Grandview High School drama students celebrated the opening night of their production of "Li'l Abner" with a performance full of catchy songs and unforgettable moments.
The cast and crew of this year's musical production includes more than 35 students, who helped bring a little bit of Dogpatch, USA to Grandview.
The storyline of this year's spring drama production, which is based on the cartoon strip by Al Capp, includes several interweaving plots. The love story that ties the entire musical together features a young Daisy Mae Scragg, played by Crystal Barrera, who has always longed for the tall and muscular Abner Yokum, played by Marcus Anderson. Every year in the town of Dogpatch there is a Sadie Hawkins Day race, in which women chase after the men in town. When a woman catches a man during the race, she gets to marry him. Every year for as long as she can remember, Scragg has raced after Yokum, but every year he has gotten away.
However, things aren't going the way they traditionally do in Dogpatch this year. Sen. Jack S. Phogbound, played by Tim Roy, brings news to the citizens that Dogpatch has been ruled completely unnecessary by the United States government and will be turned into a nuclear test site. This announcement means that the Sadie Hawkins Day race will be canceled and Scragg won't ever get another chance to catch Yokum.
Instead of sitting back and letting the government take over their little town, the citizens of Dogpatch, led by Mammy Yokum (Rosie Madrigal), jump into action, scouring the town to find something that makes them necessary.
Searching from top to bottom, Mammy Yokum comes up with an elixir she calls Yokumberry juice. She tells government officials the tonic is something she has given to her boy, Abner Yokum, since the day he was born and is the reason he is so tall and muscular. The juice could end up being the key to Dogpatch's survival.
The group of drama students put in a lot of time working on getting their backwoods accents down, and putting together that colorful scenery that helps bring a bit of Dogpatch to Grandview.
The drama students will present "Li'l Abner" again Friday, April 22, and April 29, at 7 p.m., as well as Saturday, April 30, at 2 p.m.
.