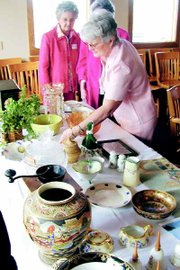 Bavarian hand painted plates, Carnival glass candy dishes, Art Deco lamps, and even a Belgian tapestry were among the items presented for appraisal at the Nouvella Club's Antique Road Show held Thursday afternoon at Sunnyside's Snipes Mountain Restaurant.
The club invited Richland antique dealers Ray George and Kay Hess to appraise club members' prized family heirlooms.
Among the most interesting items to be presented for appraisal was a lidded glass dish entitled "Westward Ho," which is dated well over 150 years. The piece features a sitting Indian as a knob and raised relief of a leaping deer and log cabin. The piece belongs to Helen Elze. Elze said the dish belonged to her grandmother, who was a First Christian minister at the turn of the century. The dish was made in Philadelphia in the 1870s.
George, who explained how value of pieces are determined, said the rare glass item may be worth more than $1,000 .
"The condition of an item and its rarity often determines the piece's value," he said.
But other things are also considered, he added. For example, an old English blue and white plate with a small crack was described as being valuable because of its age and style.
"Cracks from wear do sometimes detract from the value of a piece, but the desirability of an item can boost its value as well," George noted.
More than $2,000 worth of antiques were appraised by George and Hess, who own and operate Ragtime Antiques in the Tri-Cities. The antique experts said some items are just old and others are most valued for their sentimental value in a family.
But many items are collected just for their style and colors, said Hess. She said a highly collectible chartreuse Bauer bowl, presented at Thursday's program, might be valued at more than $300.
"This color is very popular again, and the fact that it is a Bauer also adds to its value," said Hess.
.