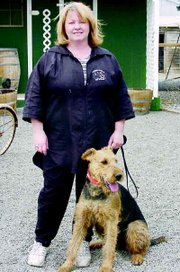 The basics of training your dog to be obedient is the basis of a nine-session course to be taught by local dog groomer, trainer and kennel owner Shelly Halma.
The class, which is set to begin Tuesday, April 26, will be the fifth session Halma has taught.
"We've been working to get our facility up to where we can accommodate the dogs and the people," said Halma, who has plans to enclose a grassy area in front of her Green Valley Road location to make a dog park where owners can bring their animals to run free.
Once the area is enclosed she will also be able to use it for obedience classes, she said.
The structured class that teaches positive reinforcement is taught by Halma.
"It's not the yank and jerk on the chain class. It's a much faster method of training," she said.
Some of the basic skills the dogs and dog owners will learn in the class include coming when called, sit, lay down and stay. She added that she also helps owners train dogs so they won't bolt out a door when the owner answers it.
Halma said she likes to add in a fun command, such as shake or roll over, as well.
She said that it takes people who want to be responsible for their dogs to participate in the class.
"Dogs are more fun if they are trained," she said.
Halma suggests that owners wanting to take the class take their dog's age into consideration.
"No dog is too old to learn, but they can be too young," she said.
Puppies should be at least four months old to take obedience classes.
She is planning on splitting the class and having a session for puppies from 6 to 7 p.m. and having an adult dog class from 7 to 8 p.m.
"They're (puppies and adult dogs) so different in how they learn," she said.
While most obedience classes are taught one day a week, Halma's classes are a bit unusual. Her obedience training classes are one hour a night, three nights a week for three weeks.
She explained that classes that are taught one day a week often have homework and owners forget the basics. Having the class three days a week, owners will be able to master the basics of training their dog.
For those with special needs, such as dogs that bark too much, Halma said training is also available for those situations.
Since expanding her dog grooming business to include kenneling, Halma has offered specialty classes at her facility.
Next month she will be holding a dog awareness clinic, hosting an animal awareness specialist and someone too, to help owners learn to care for specific breeds.
Dog obedience classes will be limited to eight participants. The nine-session course will be April 26-28 and May 3-5 and 10-12. The cost is $75. Dog owners will need to have a buckle collar and a leash for their pet (no harnesses).
For more information or to register for the class call Halma, 837-8539.
.