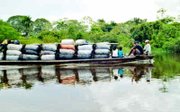 PERU - For Lucia Ramos and her fiancé Sergio Tovar, visiting the ruins of the Incas' civilization was akin to seeing the seventh wonder of the world.
"The Inca ruins, the Aztecs empire of Mexico, the Egyptian civilization are all on my personal list of wonders of the world," Ramos added, noting she has plans to see all those sights in the coming years.
She and Tovar traveled to Peru earlier this month during her spring break from school. She is a graduation specialist at Sunnyside High School. As part of their week-long stay in the South American country, the couple walked along the streets of the ancient city of Machu Picchu, hiked to the Andes Mountains to tour the Peruvian glaciers and took a boat trip down the Amazon River.
The couple also stayed in the city of Cusco, which was once the capital of the Inca empire. The trek to the Inca ruins in the city of Machu Picchu took the couple 9,000 feet above sea level. The couple traveled higher to visit the Andes glaciers, which are 16,000 feet above sea level, said Ramos.
"I suffered from headaches because of the altitudes," she said.
"The couple then dropped back down to sea level for their tour of the Amazon rain forest. "The Amazon River is pretty dirty," said Ramos. "I didn't expect that, but it was still a pretty amazing place," she said. "I thought it would be wider, but it just snakes along," she said.
In fact, as part of the rain forest tour, the couple handled parrots, participated in native dances and..."Sergio handled an anaconda snake," she added.
"I was happy holding the parrots," she smiled.
Ramos said her favorite points of interest during her South American adventure were a tie between the cracks in the Andes glaciers, which seems to sink to the middle of the earth, and Machu Picchu.
"I could have spent two days just wandering through the city ruins. I really wanted to visit the Temple of the Sun and the Temple of the Moon. But we needed more time for that," she explained.
Ramos said Tovar served as the couple's guide since he had spent a year in Peru recently doing research for the University of Washington. He currently works as the director of social services at Sunnyside Community Hospital.
"We hope to tour the Aztec ruins next summer and one day plan to see the Egyptian pyramids," Ramos said.
.