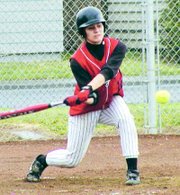 The Sunnyside High School girls fastpitch softball team found out why the West Valley Rams are currently sitting atop the Mid-Valley League standings with a perfect 4-0 mark.
"Wow, they're a strong team," said SHS Coach Ralph Mendoza, following last Saturday's doubleheader sweep at the hands of the Rams. "It's the first team we've seen where from one to nine they're great hitters."
West Valley pummeled the Lady Grizzlies 9-0 and 13-1. The Rams came up with 16 hits in the opening contest and followed with a 15-hit attack in the nightcap.
Tara Bush turned in a 3-for-3 effort in the opener, which included socking a first inning triple, to spark the West Valley win. In the twin bill finale, Drew Hester launched a lead-off inside the park homer for the Rams. She also lashed a double in the game, giving her two such hits on the day. Also in the second contest, Lindsey Jones and Erin Olander came up with three hits apiece for West Valley.
Sunnyside tallied six hits off West Valley pitcher Christina Doty in the opening game. Unfortunately, said Mendoza, "...we left everyone on base.
"We couldn't muster any runs off those six hits. We couldn't bunch any of our hits together," he said.
Crystal Soto was the lone Lady Grizzly to come away with more than one hit in the opener. She finished 2-for-3. One of her hits was a two-out double in the second inning.
In Saturday's nightcap, the pitcher Hester limited the Lady Grizzlies to just two hits. Those came off the bats of Sam Taylor and Lacey Yanez.
The second game was called after the fifth inning due to the 10-run mercy rule.
The twin losses dropped Sunnyside's league record to 1-5. Overall on the season, the Lady Grizzlies are 3-9. Sunnyside is scheduled to play a single non-league game at East Valley tomorrow (Tuesday). The Lady Grizzlies will then have a nine-day break until facing Hanford on the Falcons' home field on May 6.
. (First game)
WV 3 0 0 2 1 3 0 -9 16 0
S'side 0 0 0 0 0 0 0 -0 6 2
Doty and C Hester. Pasillas and Soto. Hits-(WV) Bush 3/3, 3B; (S'side) Soto 2/3, 2B.
(Second game)
WV 3 1 0 9 0 -13 15 2
S'side 0 0 0 1 0 -1 2 6
D. Hester and Olander. Pasillas, Garcia (4) and Soto, Epps (4). Hits-(WV) Jones 3/3, Olander 3/4, D. Hester 2/2; (S'side) Taylor 1/2, Yanez 1/2.