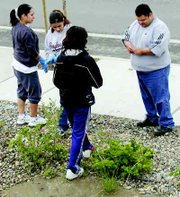 GRANDVIEW - Early morning showers this past Saturday didn't deter a group of Grandview Compass High School students, who were bent on cleaning up their community.
The young clean-up crew, led by Grandview Police Department's Luis Valdez, painted out graffiti covering the exterior of the Grandview Grange on Euclid Road before the rains got too strong.
During a lull in Saturday's weather, the five teenagers picked up garbage and weeded a stretch of city landscape along Wine Country Road, near the Grandview Dairy Queen.
"We originally thought we'd have about 10 volunteers out this morning," said Valdez. Even though only five turned up, the smaller group threw their backs into the beautification project, he said.
"It's no problem being here," said Grecia Guerrero. "I want to make my city look better," she said.
While the teens weren't sure how long their graffiti-paint out efforts would last, they were proud of their endeavors.
"The grange will probably be covered in graffiti again in few days," predicted Valentin Mendoza. "But it will look good for a few days," he smiled.
"We'll just repaint," said fellow volunteer Jesus Barrera.
The teens worked most of Saturday morning and afternoon to clean up the graffiti and trash in their community.
"We are doing it to make up hours for school, but also as a part of our leadership class," said Janet Gonzalez of the clean-up project.
"I don't think this is a waste of time," said Byanka Valencia of her volunteer time.
"I want to make sure that when people pass through Grandview they know it is a calm place to live," said Valencia
"I want it to be a calm place," she added.