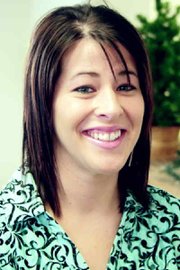 Ashley Benjert liked getting her hair and nails done so much at Catalina's Hair Salon when she was a young girl that she decided to go to work for them when she grew up.
Benjert, 22, is starting her third week of working for the Sunnyside hair salon and she feels right at home.
"I have always liked the atmosphere," said Benjert.
Benjert said when she was in school she was a frequent customer at Catalina's.
Earlier this year Benjert was at Catalina's to get her nails done when it was suggested she come to work for the downtown salon. The Sunnyside native took up the offer.
Hair, though, wasn't the first line of work that Benjert was interested in doing. After graduating high school, Benjert went to Arizona to study to become a surgical technician.
"I didn't like the sight of blood," smiled Benjert.
With that in mind, Benjert came back to the Lower Valley and went to Yakima Valley Community College for a bit, where she quickly discovered that college just wasn't her thing.
So kind of on a whim, Benjert decided to explore a career as a hair stylist. Benjert said her mother, Linda, actually encouraged her to give hair styling a try.
"I never even touched hair before," said Benjert. "I was kind of scared at first."
Benjert enrolled at Sakie International in Yakima, but came back to the Lower Valley to finish up her schooling at the Sunnyside Beauty Academy, graduating in November 2004. Benjert said she liked being close to home.
One of the people Benjert went to beauty school with helped get her a job at the Nouveau Skin Care and Day Spa in the Tri-Cities. Benjert said she was excited about working there because she had went there for a day spa treatment.
"It was a really good experience," said Benjert.
Benjert said that at the Tri-Cities spa, the hair salon portion of the business wasn't given much emphasis. Benjert said she did a lot of pedicures and manicures.
Benjert said she was more than excited to come back home and get the offer to work at Catalina's.
"I wanted to be doing hair here," she explained. "I figured I would take a chance and come back here and it has really paid off for me."
Even though she initially tried her present career on sort of a whim, Benjert said she enjoys being a hair stylist very much.
"I am a real people person," said Benjert. "I love talking to people."
Benjert said she also enjoys the freedom of her job and how one can become better at cutting and styling hair the more they do it.
However, Benjert would like to go back to school to study skin care. Benjert said she would like to help people deal with such skin issues as acne, deep skin cleansing and waxing.
Currently, Benjert is working Wednesday through Saturday at Catalina's.