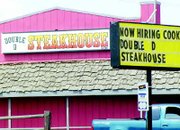 It is still a few weeks out there, but the excitement is mounting for Andy and Greg Deaton, who along with their father Jerry of Jerry's Valley Meats are planning the opening of Sunnyside's newest restaurant.
The Sunnyside men are in the final stages of preparing for the opening of the "Double D Steakhouse" on Yakima Valley Highway, near South 16th Street. The popular site has been the home of a sports bar, pizza parlor and now a steakhouse, which according to the Deatons, will feature flame-broiled steaks, a salad bar and sandwiches.
The tentative opening is set for mid-May.
"We are waiting on the approval of a few permits, but we have our equipment in and are pretty close to an opening day," said Andy Deaton, who is heading up the family project.
But don't expect to see a lot of fanfare surrounding the opening of the new Sunnyside steakhouse. The family isn't planning any kind of major opening until mid- summer.
"We haven't set a date for the initial opening, but we are pretty close," he explained, adding that the family is planning a quiet opening.
"We don't want to be overwhelmed on the first few days, " Deaton said.
"We want to make sure we've worked out the kinks first," added his father.
"We've already had people stopping by, wondering when we will be open. We just tell them it is still a few weeks out there," said the younger Deaton.
The family, who has 34 years experience in the meat business, decided to expand their business by opening a steakhouse in Sunnyside. "It's something we have wanted to do for a long time," said the elder Deaton.
The family saw a need and felt they could meet it.
"We plan to offer quality food and service," Deaton said.