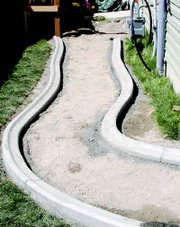 GRANDVIEW - Finding himself out of a job last year, Dan Atha was looking for something to do when he discovered a business opportunity which is helping him to beautify neighborhoods, one yard at a time, all over the Lower Valley.
Calling his new venture Athas' Edge Decorative Edging and Curbing, he puts in defining concrete edgings in yards in an effort to increase their street-side appeal.
"Not all of our curbs are being used along the street," Atha said. Some of his curbing is being used to mark garden spaces, he explained.
Using a special concrete mix, Atha's crews press into place yards of attract curbing along sidewalks, walkways, driveways and any place where a border can be added.
Atha said his company is backed up by 12 years of experience from a friend of his who has been doing this type of curbing in the Spokane area. The curbing, which is a mix of concrete and a fiber product which prevents the concrete from cracking, is easily laid in place in a near seamless application.
"I'm really pleased with the look of the curbing," said Javier Hernandez of Grandview, who recently hired Atha to add his decorative edging to Hernandez's Highland Drive yard.
"I like the clean definition it gives my yard. It makes it look very tidy and I like that," Hernandez added.
Atha and his wife Daina have been taking orders for the curbing since last fall.
"Things have really picked up this spring, especially in new housing developments in the area," Atha said.
Atha said the curbing can be tinted if the homeowners prefer a shade other than concrete gray.