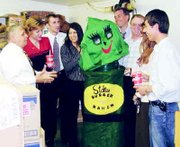 With items on its menu like fresh peach milkshakes, French fried asparagus and the ever- popular Burger Ranch burger, Dean and Wanda Stokes of Sunnyside have managed to maintain a niche in the local fast food scene for more than 30 years.
The owners of the Stokes Burger Ranch hosted Tuesday night's Sunnyside Chamber of Commerce's monthly business after-hours social event. While just a handful of Chamber members attended the event, the group was treated to the history of the Yakima Valley Highway landmark and a look behind the scenes at the popular restaurant.
Saying he adheres to four business practices, Stokes said he has always valued his employees and strives to support those who help him make money.
"We help each other," he said. Stokes said his four business principles include quality, service, cleanliness and having fun.
Stokes said nearly 20 years ago he decided to find a food item which would set his restaurant apart from the norm.
After a couple of experiments he arrived at serving and promoting Stokes' French fried asparagus. This past year, the couple sold 6,000 lbs. of the spring green vegetable.
The couple also keeps a guest book of people who have tried their fresh grass dish, which includes page after page of names.
"People ask to be put on our 'Most Famous Asparagus Eaters' list," he said.
In addition, the couple also serves home grown registered Black Angus in their hamburgers, tacos and fatijas. "We may be the only restaurant locally able to say our beef is 100 percent locally grown," said Stokes.
"We believe in serving as much locally grown produce as possible," said Mrs. Stokes. She added the restaurant's fresh peach milkshakes are very popular during the summer months.