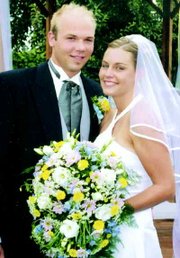 GRANDVIEW - The Grandview garden of Dr. Benno and Teresa Marx was the setting of the wedding of Elizabeth Marx and Derek Anderson.
The couple was wed in a late afternoon ceremony held Aug. 21, 2004.
Wearing a white, strapless, halter gown, the bride walked down the aisle to join her groom.
Serving as maid of honors for the wedding were the bride's sisters, Grace Marx and Laura Marx of Grandview. Attendants for the ceremony included the sister of the groom, Jennifer Mushen of Bellevue, Catherine Townsend of Spokane and Naomi Stukey of Dundee, Ore.
Brothers of the groom, Peter and Marcus Anderson of Grandview, were best men for the ceremony. Serving as ushers were the groom's brother-in-law, Tim Mushen of Bellevue, the bride's brother, Luke Marx of Grandview, and Andy Mason of Grandview.
A reception in the Marx's back yard followed the ceremony.
The couple honeymooned in the San Juan Islands before making their home in Christiansted, St. Croix, in the United States Virgin Islands.
The bride is the daughter of Dr. and Mrs. Marx. She is a graduate of Whitworth College and is a reporter and copy editor at St. Croix Avis.
The groom is the son of Brian and Karen Anderson of Grandview. He is a graduate of the University of Washington and is currently a teacher at A-Z Academy in St. Croix.
More like this story