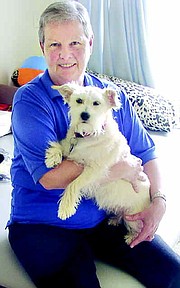 There is very little that Patsy Turner doesn't do at Hillcrest Manor Rehabilitative Care Center in Sunnyside.
Starting as a certified nurse's assistant 13 years ago, duties were slowly added until now she's known as the company's "Jill-of-all-trades."
Still working as a restorative aide, she's also the secretary for the rehabilitative center at the care facility. She also does billing for the center, acts as the ward nurse, schedules nurse's aides, drives residents to doctor's appointments and, on occasion, fixes wheelchairs, to name a few of her duties.
Her duties at Hillcrest grew slowly as there was a need. When facility administrator Mary Arthur went on vacation and someone needed to pay the bills while she was gone, Turner was taught what she needed to know. After Arthur returned Turner volunteered to continue paying the bills, freeing up the administrator for other duties.
Turner, a native of Southern California, moved to the Lower Valley with her husband in 1980 after he found the great hunting the Valley has to offer.
"He came to visit a friend and went pheasant hunting," said Turner.
After a couple of visits he called her and declared they were moving to the Lower Valley.
Rather than placing a "For Sale" sign in her yard immediately, Turner had her husband move to the Sunnyside area for six months to decide if he really liked the area.
Six months later, Turner sold her house, situated a block from the beach, packed her bags and moved to the Lower Valley.
Before Turner began working for the care facility, she was performing in-home care for a friend who was ill. She said she enjoyed the job.
"I saw an advertisement for a CNA class and decided to take the course," she said.
One of about six in the class, three of those from her original class still work at the care center.
"When I first started everything was white and we had to wear white," she said.
Today, the push is to make the facility more home-like for the residents.
"We encourage (the residents) to bring in their own things," she said.
Since the change to an environment that focuses on life, Turner is able to bring her black labrador, Murphy, to work.
Since he was seven weeks old Murphy has called Hillcrest his second home. About once a week Murphy spends the day at Hillcrest visiting residents and swooning over his girlfriend, Princess, a therapy dog that is at the center daily.
"Him and Princess are the best of buddies," she said.
"I've always wanted to train a service dog," said Turner. "I just didn't think I would be able to give them up, even though it was for a good cause, after they were trained."
With Murphy, Turner has the best of both worlds. She is able to share the therapy dog with the residents and take him home at the end of the day.
With so many aspects to Turner's job, she said the best times are those spent with residents.
"I enjoy it when they share their stories and their lives with me," said Turner.
Many of her talks with the residents of Hillcrest Manor occur while serving her patients as a restorative aide. Turner spends time with patients during an exercise program developed by physical therapists. She explained that working with patients as a restorative aide helps them keep their range of motion and gain mobility.
As a certified nurses assistant, Turner said those in her position are the nurses and doctors' eyes and ears.
"The residents get into a routine and we know when something isn't right," Turner added.