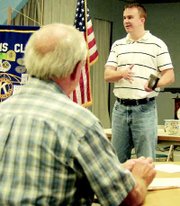 The state's requirements for food handling were discussed Thursday morning as Sunnyside Kiwanis Club members prepared to take the food handlers test offered by the Yakima Health District.
Ryan Ibach of the health district showed a 20-minute video before reviewing some of the rules that make food handling safe.
This coming Monday new regulations will be in effect that the club will have to follow even though they were tested on the old rules, said Ibach.
New regulations include a drop in the danger zone temperature. Currently, the "danger zone," which is the range of temperatures which bacteria are most likely to grow at, is between 45 and 140 degrees. The low temperature will go down to 41 degrees, said Ibach, explaining that cold foods will have to be kept below 41 degrees.
One of the biggest changes will be that food handlers will not be allowed to have bare hand contact with any ready to eat foods, such as hamburger buns.
Currently, across the state some counties require that gloves be worn when handling ready to eat foods. Other counties, such as Yakima County, don't. The new regulation is being passed down from the state.
Also changing is the person in charge rule. Currently, the owner can be the person in charge making sure employees are following the food handler regulations and making sure sick employees aren't working and passing on illnesses. Ibach said the owner didn't have to be on site, but now a person in charge will be required to be on site at all times.
The state is becoming more strict on hand washing. The new regulation will require food handlers to wash hands for at least 20 seconds, with at least 10 to 15 seconds of scrubbing.
"The average hand washing is six seconds," said Ibach.
He added that those with temporary food booths, such as the Kiwanis Club, will also be required to have a five-gallon container of water for hand washing, said Ibach.
What won't be changing are the temperatures previously cooked hot foods need to be heated to kill food borne illness and bacteria.
Foods must be heated to 165 degrees and then maintained at least 140 degrees, said Ibach. One change will be that foods must be maintained at the 165 degree temperature for at least 15 seconds.
The first key to safe food handling is hand washing, he said.
Hands and forearms should be scrubbed and dried with paper towels to prevent the spread of diseases, some of which can cause death.
Hands should be washed after handling raw meat, personal grooming, coughing, sneezing and using the restroom.
To prevent cross-contamination, which is taking germs from one food and spreading them to another, the state requires that food workers wash hands after handling different kinds of foods. A sanitizer solution of one teaspoon of bleach to one gallon of cool water should be made to wipe down counter surfaces.
When switching from cutting meats to vegetables, the cutting board and knives must be washed, rinsed and sanitized to prevent cross contamination.
Raw meats cut for food preparation must be stored in a refrigerator on the bottom shelf to prevent juices from contaminating vegetables and other foods. Vegetables should be stored on a center level in a refrigerator and previously cooked foods on the top shelf.
The key to keeping foods safe is to move foods quickly through the danger zone, according to the state.
Meat safety temperatures must also be reached to ensure safe foods. Meat should be checked for an internal temperature with a metal stemmed thermometer. The thermometer should be plunged into the thickest part of the meat. Rare roast beef should be 130 degrees, according to state regulations. Beef, lamb and seafood must reach a temperature of 140 degrees and pork 150 degrees. Restructured meats, such as hamburger, have to reach a temperature of 155 degrees before it is done and poultry must be 165 degrees internally to be fully cooked.
When cooling foods it is important to cool them quickly to prevent bacteria. Thick pieces of meat should be cut into pieces no larger than four pounds and placed in a shallow pan in the refrigerator. The pan should be uncovered until the meat reaches an internal temperature below the danger zone. Then foods should be covered, said Ibach.
Foods can also be cooled using ice. The key, Ibach said, is to make sure the ice reaches the top of the container the food is in. He added that it is important to stir the food stored in ice as well.
Foods such as soups and beans should be placed in a shallow pan no deeper than two inches and placed in the refrigerator uncovered to cool. Once cooled the pans should be covered.
Uncooked milk and eggs should also be kept at a temperature below the danger zone.
To thaw foods, the best ways are to plan ahead and place foods in a container in the refrigerator, thaw in a microwave and foods, such as shrimp, can be thawed under cool running water.
Food handlers licenses are available through the Yakima Health District. Those seeking a card will have to watch a video and then must take a 32-question test on the material covered in the video.