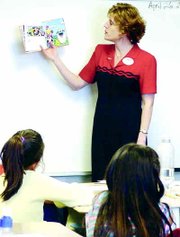 For the past three years, Sunnyside U.S. Bank Manager Dorris Kresse has been taking one day a year to teach youngsters about the importance of saving money.
She's been in the high school, middle school, and this year spoke at the ninth annual "Teach Children to Save Day," which was held April 26, at Washington Elementary School. She visited third graders hoping that something she said will encourage them to become money savers rather than money spenders. Kresse visited seven third grade classrooms as part of a nation-wide effort by the American Bankers Association Education Foundation.
"It's more important than ever for kids to learn how to save money and we at U.S. Bank want to do all that we can to ensure our Sunnyside kids start off on the right foot when it comes to managing their money," said Kresse.
In the United States, she told youngsters, the average amount of money in a savings account is $27.
"They have savings, but they use it up," said Kresse, explaining that often, things will occur, such as the car breaks down or they need a new vacuum cleaner. Sometime, she said, people will just find something they want to buy.
"Sometimes you spend all the money you have and say 'oh, I wish I hadn't bought that because you wish you had the money to save for something else," said Kresse.
As part of her presentation, Kresse read "Lucky the Golden Goose" to the youngsters. The book talked about farm animals that were paid in pumpkin seeds.
"He uses pumpkin seeds like we use quarters," Kresse explained.
Planning ahead, Lucky planted his pumpkin seeds rather than spending them.
By planting the pumpkins seeds he was able to raise pumpkins full of seeds, she explained.
In the end, Lucky owned the farm that he lived on and all the farm animals worked for him.
"If you take one pumpkin seed or a penny, saving and investing turns one into many," Kresse read to the students at the conclusion of the book.
Kresse explained to the youngsters that opening a savings account builds interest, which is when money in the bank earns more money.
"Start saving money now," she said. "You can put some of it away and pretty soon that balance keeps going up and up."
When Kresse was young she saved up her money, she said.
"When I was 16 I had enough money to go and buy a car," she said.
In one of the classes she visited, a young girl already had more than $100 saved for a graduation trip to Europe with her mother.
"It's very easy to take the money you have and go and spend it," said Kresse. "If you get birthday money it's really easy to spend your money and not have anything to show for it."
Besides savings accounts, investments and savings bonds are other ways to save money, she said.
Last year, nearly 500,000 students across the nation learned the basics of saving as a part of "Teach Children to Save Day."