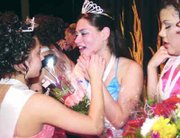 The Sunnyside High School auditorium was packed Wednesday night for the fourth annual Miss Cinco De Mayo Pageant. And, the audience got what they came for.
The talent, poise and display of young feminine beauty was worth the price of admission. But while the audience applauded each of the 18 young women vying for the Miss Cinco de Mayo crown, the panel had a tough choice narrowing the field of candidates to four and finally one.
But the minute Maria Belen Ramos took the stage dressed in a traditional red folk costume and began to dance, the crowd knew who the winner should be.
Sweeping across the stage the whirling, young Ramos nearly brought the packed house to its feet with her stylish finish. It took several minutes for the crowd to settle down in order for the evening's three-hour program to continue.
Joining the 17-year-old Sunnyside High School junior as members of the 2005-06 Miss Cinco de Mayo Court will be Princesses Christine Saens, Veronica Almeida and Casandra Romero. Romero was selected by her fellow candidates as Miss Congeniality. Almeida and Jessica Mendoza tied for the title of Miss Photogenic.
Each of the candidates were judged on their talent, poise, interview with the judges, scholastic achievement and participation in the group's opening number.
The talent portion of the evening included a diverse presentation of music and dance. Each girl demonstrated her flair for performing the popular music of Hispanic pop stars, like the late Selina and Jennifer Lopez, as well as traditional folk music. They wowed family and friends with examples of salsa, banda and hip hop music. Some of the most colorful of the dances were those representing the Hispanic heritage, including dances originating from the various regions of Mexico.
The newly crowned court will be presented publicly during the Sunnyside 17th annual Cinco de Mayo Parade, set for Sunday, May 8.