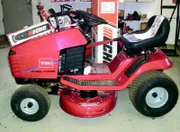 The organizers of the 25th annual Sunnyside Christian School Booster Club auction and dinner have set Friday, May 20, as the date for this year's event.
With items collected from throughout the Yakima Valley, the event promises something for everyone, according to Diana Puterbaugh of the booster club.
A professional photographic session and raffle tickets for a chance to win a Toro riding lawn mower are just a few of the items up for grabs at this year's event. In addition, a sit-down dinner is on the schedule for that night.
Billed as a school and athletic fund-raiser for the Sunnyside Christian School, the event will be held at the Yakima Chief Warehouse, 520 South Hill Road, Sunnyside.
Doors open at 4:30 p.m. with the live auction set to begin at 6:30 p.m.
The event is open to the public and tickets for the dinner, priced at $20, are available by calling 837-8995.