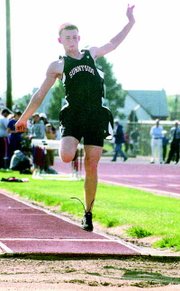 Winners of nine of the 17 events, Hanford won the boys title Thursday afternoon at a Mid-Valley track and field meet hosted by the Sunnyside Grizzlies.
On the girls side, West Valley dominated. The Rams nailed down 11 victories, including two wins apiece by Rachel Johnson (200, 400) and Michelle Braun (javelin, triple jump).
The only first place finishes secured by the host Grizzlies came in the girls events.
The first came from junior Christy Linde, who won the 100-meter high hurdles, blowing away the field with a clocking of 15.8 seconds. The closest competitor finished six-tenths of a second back of Linde.
Sunnyside's second win was notched by junior Yanet Candido. Competing in the 3,200-meter event, she cruised to a clocking of 12:51.6. A West Valley runner was far back in second place with a clocking of 13:00.3.
The Lady Grizzlies tallied 32 points in the girls team standings. West Valley came out on top with 98 points, followed by Hanford with 45.
Linde, besides winning the 100 high hurdles, grabbed a second place finish in the 300-hurdles. She was two-tenths of a second behind West Valley's Trammel, who finished in 49.4 seconds.
Sunnyside, too, received three runner-up finishes from Claire Schilperoort, Jordyne Jaquish and Carly Dahlstrom.
Schilperoort, in the discus, got the platter to fly 99 feet, 5 inches. The winner, West Valley's Bucklee, had a throw of 103-10.
Jaquish earned her second place finish in the triple jump with a leap of 30-5. Braun won the event with a jump of 33-3. Jaquish also had a third place finish in the high jump, clearing the bar at 4-8. West Valley's Brantnee had the top performance, a jump of 5-0.
Dahlstrom's second place finish came in the shotput. She heaved the ball 31 feet, 9 inches. West Valley's Karen Chase was first with a throw of 41-3.
Sunnyside junior Fatima Ruelas was third in the 400. She hit the finish line in 1:02.8. The winner, West Valley's Johnson, clocked a 59.3. Ruelas also was fourth in the long jump (15-2). The winning long jump effort was 17-9 by Hanford's Hostetler.
In Thursday's boys events, none of the Grizzlies were able to claim either first or second place finishes. Sunnyside's top performer was junior Michael Graham. He had two third place showings-the first in the 110 high hurdles (17.0) and the second in the pole vault (12-0).
Sunnyside, too, received third place showings from Noe Zamarron in the 100 (11.6) and from Daniel Escobar in the discus (125-3).
The only other placing for the Sunnyside boys squad came from Casey Smith, fourth in the discus with a throw of 119-2.