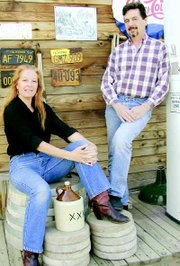 Diana and Tim Lyczewski of Sunnyside have launched a new venture which combines two of their favorite things - being married and a sense of fun.
Recently, the newlyweds decided to become ordained in order to offer a marriage ceremony option for those couples seeking simple, informal marriage ceremonies.
In fact, the name of their new venture is Simple Ceremonies, said Mrs. Lyczewski. She said she and her husband want to offer couples seeking to be married in a ceremony less structured than a civil ceremony with a judge or a church ceremony with a pastor.
"We will perform informal wedding ceremonies at the location of the intended couple's choice," she explained. The couple got the idea to become ministers and offer simple marriage ceremonies from the woman who married them. Former Sunnysider Marcie Howard married the Sunnyside couple a few years ago in a ceremony held in Hawaii.
It got us to thinking that other people might like the casual type ceremony as well, Mrs. Lyczewski.
The couple are now ordained ministers registered with Universal Ministries and the Universal Life Church. They are recognized by Washington state to perform legal marriages.
As part of the Simple Ceremonies services, the duo offers to meet with couples to discuss locations and alternative vows, and take part in a rehearsal ceremony prior to the actual ceremony.
"We encourage people to pick a location of their choice for the ceremony, from gardens to remote locations," she explained. They will also provide a witness and a photographer to record the happy event.
As a follow-up to the marriage ceremony, the couple will file marriage licenses with the county auditor.
Our fees range from a flat fee of $75 for a plain civil service to $125 for a packet ceremony, she added.
"We hope in the future to expand Simple Ceremonies to include theme wedding ceremonies," she added.
She said the couple is interested and willing to perform in costume from Bonnie and Clyde to vintage 50s style.
"We want to perform a ceremony which is relaxed and fun," she said.
Couples wishing more information about Simple Ceremonies can email the couple at tims@televar.com or call 840-2599.