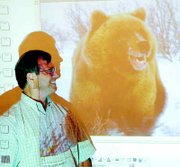 Hungry bears have no sense of humor, especially after waking up from a long winter's nap. Grandview businessman Gary Christensen found that out the hard way this past April while on a bear hunting trip to Russia.
During a bear hunt on the Kamchatka Peninsula, located to the west of the Aleutian Islands, Christensen found himself being chased by an irate bear that wasn't too pleased to be disturbed by one of the party's snowmobiles.
"Even my guide said we'd gotten way too close," Christensen told Sunnyside Noon Rotary members this past Monday.
Christensen, the Rotary guest speaker, said the Russian brown bears, which can measure upward of 8 to 10 feet tall, were just coming out of hibernation when his group landed on the peninsula for what is an annual thinning of the bear population.
Christensen said he was in the process of taking photographs of one of the brown bears for a national travel magazine dedicated to exotic hunts, when the bear circled around for the attack.
"I was riding on a handmade sleigh being pulled by my guide's snowmobile when the bear decided to attack," Christensen said.
The bear apparently took exception to the noise and instead of ambling off in the opposite direction, it decided to attack Christensen's sleigh.
"The guide had taken me in for a close look so I could get a better photo of the eight-foot bear," Christensen explained.
"But when the bear circled around and decided to give chase, we took off in the opposite direction," he said.
Christensen said he was afraid he might be jerked from the sleigh as it whizzed across the frozen snow. "That bear was really moving," he said.
Christensen managed to get a couple of photographs illustrating the bear's fury. "The snow was flying off his feet," said Christensen.
While the chase makes an exciting hunting story, Christensen said it was an experience he would have given up in order to bring home a different trophy.
Christensen managed to shoot two bears while on his hunt, but due to some foul-up in the Russian bureaucracy, he not only wasn't allowed to claim his bearskin rugs, he ran the risk of being arrested for poaching while on his two-week hunt in Russia.
"In the middle of our hunt, the Russian government decided to cancel the brown bear international hunting season.
"Not only did they cancel the season, they made it retroactive, meaning any bears we had already shot, we couldn't keep," he explained.
Christensen said the guides, many of whom are ex-poachers but are very good hunters, urged the American hunters to get out of Russia to avoid arrest.
"Our guides took our bear trophies and buried them under the snow," Christensen said.
"I don't know if or when we'll get those hides back," he added.
Christensen, who has traveled the world hunting big game and photographing exotic animals, said he next plans to tour New Zealand, although what he'll hunt there is uncertain.