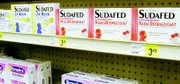 The U.S. Senate Judiciary Committee recently approved and forwarded the Combat Meth Act of 2005 out of committee and to the full Senate. The legislation would regulate the sale of pseudoephedrine by keeping products that contain it behind a pharmacy counter and allowing only a pharmacist or pharmacy technician to sell such products.
The move is one being applauded by the Fertilizer Industry Methamphetamine Task Force.
"The fertilizer industry, including agricultural retailers, has been particularly hard hit by the theft of our products for illegal production of methamphetamine," said Fertilizer Institute President Kraig R. Naasz. "This bill will significantly bolster the efforts by rural communities, fertilizer dealers and their farmer customers to halt the spread of methamphetamine."
Jack Eberspacher, Agricultural Retailers Association president and CEO, noted that taking such proactive measures to help stamp out the nation's ever-growing methamphetamine problem is a top priority for the ag retail industry. He explained that the industry as a whole is dedicated to working with different senators and other key lawmakers to pass a comprehensive proposal that will promote the use of deterrents to prevent the theft of agricultural products by drug dealers.
Specifically, the bill would add pseudoephedrine to the Controlled Substances Act and classify it as a Schedule V drug. As such, consumers would be limited to purchasing 7.5 grams of the product over a 30-day period from a pharmacist. In addition, consumers would be required to present proof of identification and sign for the medicine in order to purchase it. The transaction date, customer name, type of drug and the amount of the drug purchased would be required in writing.
To address rural areas that may not have a licensed pharmacist in a 100-mile radius, the bill authorizes the sale of drugs containing pseudoephedrine by persons other than a pharmacist, and at a location other than a pharmacy when necessary.
An amendment to the bill was passed that struck the preemption statue from the legislation. Therefore, the federal legislation will not preempt state and local legislation.
Oklahoma was the first state to pass legislation limiting the sale of products containing pseudoephedrine. Since doing so, seizures of clandestine labs have declined by about 80 percent. To date, some 32 states have enacted, or are close to enacting, anti-meth measures similar to those in Oklahoma.