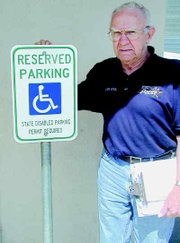 Ray Herd is a patient man. He doesn't mind waiting to ticket those who park on the wrong side of the street.
Sometimes his target moves, but Herd eventually gets his man. And, when he does there is usually a $38 ticket involved for some unlucky motorist.
But, as he is fond of saying, that is better than the $101 traffic ticket a person might get for driving in the wrong lane. Herd, a volunteer with the Sunnyside Police Department, helps local officers by enforcing parking regulations.
Since beginning his emphasis on illegal parking this past Memorial Day, the senior citizen has written 195 tickets, just for parking on the wrong side of the street. That doesn't count the nearly daily tickets written up for handicap parking violations.
The retired Oregon city planner, who for the past year has been charged with enforcing handicap parking regulations, said he has seen a drop in the number of violators of the handicap parking rules.
"I started out writing anywhere from six to 12 tickets a day," he said, explaining that it's dropped off to one or two a week.
He thinks the $250 fine for that handicapped parking fine has played a part in the reduction in those violations in the city.
But those motorists who swing across the street to park curbside facing the oncoming traffic are still keeping the soft-spoken man busy.
He said in just a few days after the parking emphasis began, he wrote 102 tickets for wrong way parking.
According to Sunnyside Deputy Police Chief Phil Schenck, Herd is providing a great public service as a parking enforcement volunteer.
"He is helping us with a chronic problem," said Schenck.
"Parking on the wrong side of the street is not a frivolous violation," said Schenck.
He said it causes a dangerous situation for oncoming traffic. An illegally parked car means a motorist has crossed a lane of oncoming traffic, which could lead to head-on collisions, he explained.
According to the state code, vehicles must be parked with the right-side wheels parallel to and within 12 inches of the right-hand curb or as close as practicable to the right edge of the right-hand shoulder.
Schenck said the police department had asked Herd to give out warnings for several weeks before starting to issue tickets.
"He has done such a great job he is now having a hard time finding illegal parking violators," said Schenck.
Not being able to find illegally parked cars doesn't bother Herd. "But I haven't given up looking," he said.
When he finds a car parked on the wrong side of the road, Herd often encounters some opposition, but he just asks the violator if he'd rather get the $38 ticket or the $101 ticket issued for wrong lane use.
"The violator usually goes for the $38 parking ticket," he smiled.
.