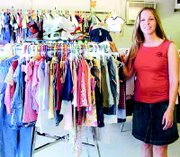 GRANDVIEW - With two small children of her own to clothe, Lyndsie Hernandez knows how hard it is to keep children dressed nicely at a reasonable price.
"They grow so fast and their clothes can be as expensive as a adult clothes," said the young entrepreneur.
An avid user of the Internet buying and selling, Hernandez recently decided to embark on a new venture, offering good, usable pre-used children's clothing for sale in a retail setting.
Hernandez calls her venture Carousel Kids, and has located her shop on Grandview's West Second Street, next to Cliff's-TV.
"I wanted to offer quality, gently used children's clothing to parents seeking to buy nice clothing at a reasonable price," she explained.
While her shop has only been open a short time, Hernandez said her vision of reselling children's clothing has already been very fruitful.
"I started with just an advertisement in a local newspaper asking to buy children's clothing. In a short time I had enough variety to fill my shop," she said.
The Grandview native said while she was excited to open a shop of her own, it was difficult at first to leave her children with a sitter to go to work.
"I've been a stay at-home mom for the past eight years, but with both children now in school, it seemed like a perfect time to give this a try," she explained.
"Besides, I was ready for a change," she added.
Opening Carousel Kids is something Hernandez has wanted to do for a long time. "I really feel that the Lower Valley has a need for a store that offers affordable, yet quality clothing for children," she said.
The last time the Lower Valley had a dedicated children's clothing store was before Sunnyside's Calico Circus closed in the early 1990s.
"I remember my mother taking me and my sister there to buy our clothes," she said.
While Carousel Kids is not a store offering brand new clothing, she said her shop does have items which show very little, if any, wear. "And at a fraction of the price when purchased new," she added.
"I love children's clothes and resale is a great way to affordably purchase name brand items for your kids," she said.
Hernandez has created a shop filled not only with a variety of children's clothing for sizes preemie through 16, she also carries good, used baby items from changing tables to a plethora of other baby necessities. She even carries some learning materials and books.
Recently, she added a line of good, used maternity clothing. "After all, who wants to buy clothing you'll only wear a few times, she said.
"But, she added, "what we have is very cute."
In addition to reselling used clothing, Hernandez said she offers to buy used clothing.
"This is a great chance to clear your child's closet of outgrown or unused clothing and make a little more money on them than you might if you put them in a yard sale," Hernandez said.
She said she accepts clean, ready to sell clothing in good condition. "Name brands sell best so we pay a bit more for them," she added, noting all clothing must be fashionable.
.