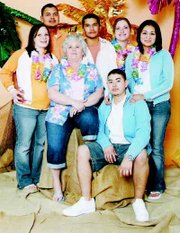 GRANGER - Knowing she was finally going to retire her cheerleader uniform, the children of Brenda Ayling of Granger decided to throw the long-time Granger High School cheer squad advisor a surprise retirement party.
Not knowing what plans her 10 children had for her, Ayling planned a brief vacation. But before she could get out of town, her clan was able to take her to the one place she spends nearly every work day.
"Mom was pretty surprised by the party," said Tammy Leon of Sunnyside, who said quite a few of Ayling's former squad members turned out for the retirement party.
"We had about 70 people there to watch the powerpoint presentation covering mom's career," Leon said.
The surprise party was held last Saturday night at the Granger High School commons, a place Ayling is well familiar with as the director of the Granger School District food services program.
So how did she get involved with being the advisor for the cheer squad? According to Leon, her mother decided to fill the position when it became clear that no one else wanted the job.
As it turned out not only did she serve as the mentor for 18 Granger cheer squads, she was a the advisor for a number of her own children who also ended up on the squad.
For a time Ayling was advisor to the only squad in the Lower Valley to consistently have boys on their squads, said Leon, adding that two of her brothers were on the teams.
"My brother, Jeff, joined the squad in 1991," Leon added.
In fact, Granger High School's cheer squad was the first squad in the Valley to begin stunting with boys, Leon said.
In the 18 years of coaching, Ayling had seven of her 10 children on squads throughout the years: Jeff (1989-1991), Greg (1993), Katie (1992-1995), Sarah (1995-1998), Amanda (1997-2000), and Alisha (2000-2003).
"It was sometimes a family affair," admitted Leon.
But after 18 years, Ayling, who will continue working in the district's food services program, has hung up her pom poms.
Leon said her mother was a great advisor and well respected by the school's cheerleaders.
She took the teams to cheer camps, helped them with fund-raisers, coaching them and encouraging them to inspire the Granger High School student body and sports teams.
"I think it helped that mom had once been a cheerleader herself," said Leon, who said her mother was a cheerleader at Granger High School in 1964.