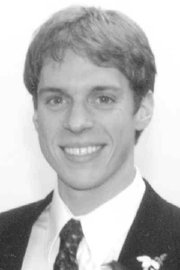 Finding someone who is proficient in English, German, Italian and French can be somewhat of a challenge. But Grandview High School graduate Joe Michels was required to learn the three romance languages, not for a trip around the world, but for his profession.
Michels recently completed his first professional opera performance playing the part of Brighella in the Richard Strauss opera, "Ariadne auf Naxos."
The opera was performed at the Union Avenue Opera Theatre in St. Louis, Mo.
Michels earned his undergraduate degree from Pacific Lutheran University before moving to St. Louis to earn his Maters degree in voice from Washington University.
Michels' mother, Thora Michels, explained that her son opted to attend the St. Louis school because he was offered an all-expenses paid scholarship. While there she said Michels took part in classical voice training, and perfected his proficiency in the romance languages. She explained that her son needed to learn all three languages because these are the languages in which most operas are performed.
Michels graduated from Washington University in 2004 and has been living in St. Louis working at a local coffee shop to pay the bills. Thora said her son, who is a tenor, performed in various operas during his school years and has taken part in several performances since graduation. But all of them were on a volunteer basis.
Michels' stint at the Union Avenue Opera Theatre was his first professional performance. Thora said she traveled to St. Louis to see her son give his opening night performance, which took place on July 23. She said the opera was performed in German with subtitles projected on screens located on either side of the stage.
"This was a pretty big deal," Thora said, adding that it was great to see her son on stage.
"Ariadne auf Naxos," was performed at the Union Avenue Opera Theatre for three nights, closing on July 30.