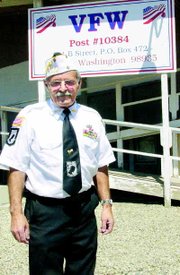 MABTON - When Granger's William Russell first took over the Veterans of Foreign Wars Post in Mabton, membership numbers were dwindling and the post was in danger of losing its charter.
But in the last year and half, Russell has pushed to turn the post around. Membership numbers, which had dropped to 13 before Russell took over, are up to more than 75 today. Russell said he and other post members worked hard to try to increase membership and involvement in the Mabton VFW post.
Russell said post members knew a lot of veterans who were not members of the VFW, and they actively began searching them out.
Russell and the Mabton VFW post were recently recognized by the VFW National Headquarters for their outstanding work. Russell and the post achieved All American status.
Jim Rowoldt with the VFW National Headquarters explained that as the post commander during the last year, Russell will be awarded a distinctive cap to signify that he is an All American post commander. But Rowoldt said the award, of which only 115 were presented to posts nationwide, really pays homage to the post as a whole.
"They're an outstanding post," Rowoldt said.
Russell added that Mabton is the only All American post in district 17, which covers VFW posts from Yakima to the Tri-Cities.
He said working to increase membership is just a part of the equation the led to the prestigious award. Russell said the post has also been very active in its community, taking on projects like the VFW Voice of Democracy competition.
Russell, who spent 21 years in the Army and served in the Vietnam War, first joined the VFW in 1978. He said he joined the VFW because on a long drive that led him the through the Tri-Cities he realized he was really thirsty. It was then that he noticed the VFW post in the Tri-Cities and he decided to stop in to get a soda. He said the post members told him he could have a drink, but only if he joined the organization.
Since then Russell has become very involved in the VFW organization. He has served as the commander of the Granger/Zillah VFW post, which no longer exists, and was the commander of the Sunnyside post before he transferred to Mabton to help.
Although Russell, who is married to wife, Sandra, has spent the last year serving as the commander of the Mabton VFW post, his term just recently ended. Russell will spend the next year serving as the quarter master, while Scott Roeho, a Gulf War veteran, will take over as post commander.