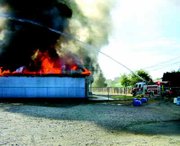 Three juvenile boys were arrested Thursday afternoon shortly after Sunnyside firemen responded to a fire that destroyed the newly remodeled Sunnyside TV Towne store on Yakima Valley Highway.
Within minutes of receiving the call to the burning furniture outlet, Sunnyside police officers arrested three boys, who had been reportedly seen in the area of the store's loading dock.
According to the police report, witnesses saw the boys attempting to set fire to some old furniture located outside the building.
Of the three boys, one, age 12, was charged with first degree arson and transported to the Yakima County Juvenile Detention Center, according to Sunnyside Police Chief Ed Radder.
The fire, which is believed to have started near the appliance store's loading dock, took nearly four hours to contain, calling on the aid of several Lower Valley fire departments and more than 50 firefighters.
The firemen were hampered by the late afternoon heat, as well as traffic on Yakima Valley Highway, which made it difficult to get fire fighting apparatus into place. Also slowing the fire fighting efforts were a series of false ceilings, which kept fueling the fire.
"It took some time to get the street cleared, and the trucks put into place to fight the fire," said Sunnyside Fire Chief Aaron Markham.
Upon arrival at the scene, firemen quickly saw the need to attack the fire from the roof, Markham said.
"When I arrived at the scene there was a fire coming from the north side of the building from underneath the loading dock," said Markham, who was one of the first firemen on the scene.
He called for aid from the Prosser and Toppenish Fire Departments, both of which have ladder trucks, which were used to subdue the flames.
Markham said the fire, which completely destroyed the new storage wing of the building, was connected to the older portion of the building, which had received a facade last year. The facade included a large attic which served to move the smoke and gas into the showroom area of the building, feeding the fire, he explained.
Markham was at the fire scene this morning to begin investigation of the blaze which resulted in more than a $1 million loss. He said TV Towne had undergone extensive remodeling just a year ago.
Store management was unsure what the future status of the store would be at this point. For the time being the store's employees will be out of work, said store manager Bill Blondin.