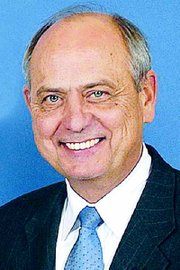 Although they haven't been signed into law yet, Congressman Doc Hastings points with pride to the energy and transportation bills that await President George Bush's signature.
On a brief stopover in Sunnyside last week, Hastings lauded the energy and transportation bills that he and other Republicans helped push through Congress before adjourning for their annual late summer recess.
The energy bill, which has been pending for several years, will particularly benefit Hastings' Central Washington constituents in a couple of ways, he said.
Hastings said one immediate effect on Central Washington residents will be the result of the energy bill restructuring the relicensing costs bore by those who operate the region's hydro-electric dams.
"The relicensing costs are paid by the taxpayers," said Hastings.
"The (energy) bill eliminates a lot of the redundency in the relicensing process.
"The bill also allows the locals to come up with their own solutions to the environmental problems," he explained.
"The bottom line is that the rate payers will benefit," Hastings said.
The 4th District congressman from Pasco said another element of the energy bill that will benefit Central Washington is the promotion of the development and use of bio-fuels. Hastings said financial incentives and tax breaks are included in the bill for those who work to make bio-fuels affordable for the general public.
One such experimental bio-fuel farming operation is currently located just outside of Sunnyside.
Hastings said he is also pleased with the transportation bill that awaits President Bush's signature. In the bill, he said, are three appropriations for Central Washington transportation projects: $5.1 million for improvements to the I-82 interchange at Union Gap, $2.8 million for an upgrade to the Red Mountain exit I-82 interchange near the Tri-Cities and $4 million to decongest the bottleneck at Wenatchee's George Selan bridge.
In looking ahead to when Congress reconvenes in Washington D.C. after Labor Day weekend, Hastings said lawmakers have two major issues to tackle. The first, he said, is finishing the appropriations process.
The second, he added, is addressing immigration reform.
"One component of that will be to secure our borders," said Hastings.
Another component, of which Hastings said he is in favor, is establishing a guest worker program.
"I am confident this (the guest worker program) will happen," he said.