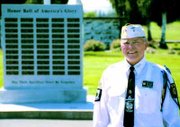 Giant cranes have lowered the final slabs of granite into place to bring to a close a 10-year effort to create a lasting salute to the Lower Valley military men and women who served their nation.
The Lower Valley War Veterans Memorial, a monolithic structure located in the center of the Lower Valley Memorial Gardens on Van Belle Road, was developed and designed by the SunnyView VFW Post members to honor World War II veterans.
But the project's scope was later expanded to include World War I, and all veterans from subsequent wars and conflicts involving the American military, said Greg Schlieve, who spearheaded the construction.
The final two granite walls finish the pavilion effect of the memorial design, which earlier this year received national recognition as an outstanding salute to veterans.
Schlieve, who said the cost of the project, which was solely funded by private contributions of the veterans' families, is nearly $150,000.
The final granite walls are inscribed with the names of 110 veterans, Schlieve said. The additional names bring the total number of veterans honored on the memorial to 400.
Schlieve now plans to rededicate the monument to mark the completion of the final phase of the memorial.
"I'd like to hold an awards banquet and dedication ceremony on Patriot Day, Sept. 11," Schlieve said.
"I'm very happy the memorial is finally complete," he said.
"I've received numerous calls from men telling me how beautiful the memorial is," he said.
"Some of the calls are from veterans who were so moved by the monument, well, they were choked up," he added.
"I didn't really think it would make that big of an impact on veterans," he said. "But I guess seeing it completed has been a healing process for many people, especially Vietnam veterans.
"Being a part of that healing process has been my greatest reward on this project," Schlieve said.