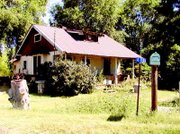 GRANDVIEW - A five-year-old murder could be one step closer to being solved. Last Thursday, 63-year-old Daniel Sauber walked into the Grandview Police Department and told officers that he had killed a woman five years ago and buried her body behind his house at 471 Hickory Rd. in Grandview.
According to Yakima County Sheriff's Office Chief of Detectives Stew Graham, Sauber made an admission to the Grandview police, which caused the local department to contact the Sheriff's Office.
Graham said Sauber gave officers some general information about the incident, including information that he had confided in another person about three months ago about what had happened. According to the Sheriff's Office, Sauber said the victim's name was "Sharon."
According to the Sheriff's Office, the Grandview Police Department had taken a missing person report about one year ago for a woman named Sharon Lee Mason. Family members making the report said they had not had any contact with Mason since 2000.
Graham added that Sauber was rather intoxicated at the time he came into the police department.
Graham said after deputies talked to Sauber they had to decide whether or not to act on the information Thursday night or wait until Friday morning. He said after some discussion deputies decided to wait until last Friday, which gave them time to find and talk to the person in which Sauber had confided. Graham said it was the second person who was able to give police more detailed information about what had happened and where the body might be.
A search warrant was obtained and executed at the residence on Hickory Road, which sits on more than two acres. After several hours of excavation in the open area at the rear of the property human remains were located. The remains were transported to the Yakima County morgue. As of this morning (Monday), an autopsy had yet to be scheduled. Graham said the autopsy will be used to determine both the cause of death and to establish a positive identification on the victim.
Sauber was booked in to the Yakima County Jail on murder charges.