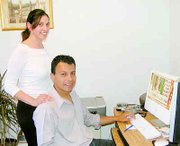 Seeing the results from their own wedding video was the inspiration for a new business for Alejandro and Suzie Ortiz of Sunnyside.
Together, the couple has launched Tequila Video Productions, although she is quick to point out he is the filmmaker.
"I'm the go-fer," said Mrs. Ortiz, who works for Central Washington Comprehensive Mental Health.
Ortiz, who is employed as a school counselor with the Sunnyside School District, said he wants to create wedding videos that are more than just a flat collection of pictures.
"I want each video to tell its own story about the couple," he explained.
Ortiz said he sees wedding videos becoming a growing trend. "People want live visuals so they can watch and relieve the moment," he said.
To add to the personalization of each video, Ortiz asks couples to pick their own music for their film's soundtrack.
He usually shoots at least three hours of film before editing it into the finished product, which is about 30 minutes long.
Ortiz said he does his best work in the editing process.
"I'll spend up to 10 hours in the editing process," he said.
"I even include credits," Ortiz smiled.
"I've always liked working with video," Ortiz said, who said filmmakers like Robert Rodriguez, Quintin Tarantino and Martin Scorsese are his film director heroes.
To aid in his dream of being a filmmaker, Ortiz studied video film production in order to create quality films. Ortiz, who did his social services graduate work at the University of Washington, took his video training at 9-1-1 Media Center in Seattle.
Ortiz said he got his inspiration for wedding videos from the one he and his wife had made of their own wedding.
"I liked the video that Pilot Video Productions of Yakima created for us. I thought I could provide the same service in the Lower Valley," said the Sunnyside native.
Ortiz said he isn't interested in just shooting ordinary videos. He wants his films to be something that will entertain families for years to come, complete with music and dialogue of the event.
"I don't want my videos to be boring," he said.
"I want my videos to be watched again and again," he said.
The young movie maker said his business started out slowly, but now his weekends are booked through November. So far his clients have wanted films of weddings, quinceacineras and other special family events.
"Eventually I'd like to branch out to film community events," he said.
"I want to provide quality productions of area events, from community activities to winery advertising," he said.
"That is my long term goal," he said.
People interested in learning more about Tequila Video Productions can contact Ortiz at 837-3031.