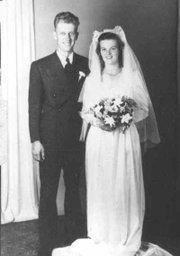 Alfred and Pauline Newhouse are celebrating their 60th wedding anniversary.
The couple was married on Aug. 22, 1945 in Sunnyside, where they were both born and raised. They continue to make their home in Sunnyside, where they've operated their family farm. They have seven children, 28 grandchildren and 14 great-grandchildren.
Their children invite family and friends to celebrate with them at an open house on Sunday, Aug. 21, from 3 to 6 p.m. at Snipes Mountain Brewery. No gifts, please.