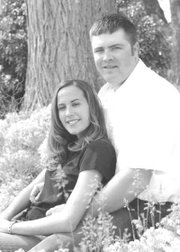 Taryn Van Klinken and Travis Baze, both Prosser natives, first met at a 2003 Christmas party. Almost two years later, the two have chosen Sept. 17, 2005 as their wedding date.
The bride-elect is the daughter of Tim and Karen Van Klinken of Prosser. She is a 2001 graduate of Prosser High School and a 2005 graduate of Washington State University, where she earned a degree in business. She is currently employed at Ag Management in Kennewick.
The bridegroom-elect is the son of Janice Baze of Goldendale and Rody and Rindi Baze of Kennewick. He is a 1996 graduate of Prosser High School and is currently employed as a foreman for Shaw Energy in Pasco.
The two will be married at the Sunnyside Christian Reformed Church.