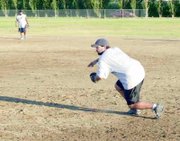 The National League All-Stars won the annual Lower Valley's Men's Softball League season-ending all-star game Tuesday night.
The Nationals did so in dominating fashion, pounding the rival Americans 23-3. The game went 11 innings because the players wanted to keep playing, said Bob Sarmiento Sr., who coached the Nationals and oversees the local league.
"It was great," he said of the season-ending affair, citing the large crowd that was in attendance. "I was happy."
The Americans scored their only three runs of the game in the bottom of the first. The Americans had 12 hits for the game, led by the trio of Kevin Cole, Dave Klienow and Brent Robillard, who were all 2-for-3 at the plate. Robillard was named the most valuable player for the Americans.
The Nationals put on a powerful display last night, smacking 33 hits.
The Nationals scored lone runs in the first, fourth, fifth and sixth innings. The Nationals put up a three-spot in the third and plated four runs in the eighth. The big inning, though, for the Nationals was a 12-run 10th frame that all but put the game away.
The eighth inning for the Nationals was highlighted by a three-run home run from Bob Sarmiento Jr. and a solo shot from Dave Palomarez.
The younger Sarmiento had a field day last night, taking home MVP honors for the Nationals. Sarmiento was 5-for-6 at the plate with four home runs and a triple. Kevin McClure, Anthony Palomarez, Casey Jensen and Andy Carrizales were all 3-for-5 at the plate. Chris McCallum finished 4-for-6.
Sarmiento Sr. said the season went well overall. The league had 119 players competing this summer and saw the addition of a new team in Saldana Construction.
Bob's Auto Clinic won the regular season league crown with a 23-7 mark while the Brown Sox took runner-up honors with a 22-8 mark.
The following are the players for the Nationals and Americans who took part in this year's all-star game.
Nationals: Coach Bob Sarmiento Sr., Chris McCallum, Andy Carrizales, Bob Sarmiento Jr., Kevin McClure, Lino Gutierrez, Dave Palomarez, Anthony Palomarez, Mike Farmer, Tony Castillo, Jeff Jensen, Casey Jensen and Josh Desmarais.
Americans: Coach Todd Roberson. Kevin Cole, Dave Klienow, Josh Ashley, Brent Robillard, Jon Cox, Tyler Esqueda, Nick Uribe, Jesse Garcia, Mario Garcia, Fidel Castro Jr., Ivan Garza and Raul Mendoza.