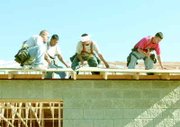 For the past 25 years Walco International Inc. has been located on 16th Street in Sunnyside. But that is about to change.
Last November, the company, which specializes in animal pharmaceuticals, purchased an existing warehouse facility at 120 E. South Hill Rd. In July, John Eakin was issued a building permit by the Sunnyside Building Division to begin work on constructing a new building adjacent to the existing warehouse. The fee for the permit was $2,383.
Kevin Fennell, division manager for Walco International, explained that the new building will house the company's new retail facility. He noted that the company currently has a small, 800 square foot retail space at its 16th Street location. The new building will feature nearly 5,000 square feet of retail space for Walco.
Fennell said the new space will allow the company to expand its retail offerings. The company will likely begin offering Western wear, boots and companion animal items.
"It will give us a little more room to spread out," Fennell said.
Construction on the new retail center started at the beginning of July, and is scheduled to be completed the end of this month. Fennell said the company plans to move into its new location in September.
The permit issued for the Walco International Inc. project is just a sample of the projects that were started in Sunnyside last month. According to Sunnyside Building Inspector Mike Storms, work started last month on the construction of a new strip mall in the area near Wal-Mart at 2685 E. Lincoln Ave. Storms said the new retail center will look nearly identical to the two retail structures that already sit on the outskirts of the Wal-Mart property.
Permits were also issued in July for work on six new single-family homes. Five of the six homes are located in the subdivision situated along Sunnyside-Mabton Highway. The sixth home is located at 1011 E. Lincoln Ave.
In July, the Sunnyside Building Division issued 90 permits, including 29 building permits and 13 permits each for mechanical and plumbing work. Seven permits were issued to the public works department during the month, including six permits for curb, gutter and sidewalk work, and one permit for a street excavation. An additional nine permits were issued for water connections, sewer connections and water meters. The building division also issued one permit for a deposit street cut. Local building inspectors were kept busy last month, performing 427 inspections on new projects with a valuation of more than $2 million.