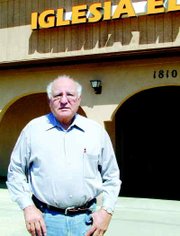 From having only a second grade education to finally earning a Master's in divinity, Elias Flores has traveled a winding path to Sunnyside.
A Texan by birth, but raised in Mexico, Flores has lived much of his life in southern California.
But wherever Flores traveled there was one constant. He worked as a pastor, youth leader and lay person, even during the years when he drove truck to support his family of six.
Today, Flores is the pastor of Sunnyside Iglesia El Calvario on Morgan Road.
Flores is the newest pastor at the Hispanic Assembly of God Church. But the Sunnyside church is not his first. He began his pastoral work in 1957, but quit for a time to raise his family.
"I drove semi-trucks and lived in many different areas of the country," he said.
In 1995, Flores went on to graduate from high school and then college, to begin a full-time career in the ministry.
He attended seminary in Azusa University in southern California. He is now working on his Doctorate in divinity.
Flores said he began his life in the ministry when he was just 19 years old. It was while attending church that he was inspired to study. By age 35 he had earned his high school diploma, and by the 1980s he had earned his university degree.
"I told my children that I was going to be the first one in our family to get a high school diploma.
"I then told them I would be first to get a university diploma in our family," he said.
His children have since all gone on to college.
Flores, who did church work even while working as a truck driver, has lived in much of the Midwest, as well as the Pacific Northwest.
He is looking forward to getting settled in Sunnyside and helping the Iglesia El Calvario church family grow.
"We currently have a membership of about 45 families, but many more attend church services twice a week," he said.
"The congregation has welcomed me with open arms," said Flores.
"My wife, Raquel, and I are very happy to be in Sunnyside," he added.