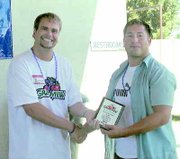 GRANDVIEW - Just two years ago the Grandview Chamber of Commerce was ready to close its doors and abandon its mission of promoting community business.
But then something happened. The handful of members regrouped, reorganized and renewed their commitment to promote Grandview.
In celebration of its success, the new Grandview Chamber of Commerce welcomed its 120th member during a luncheon held Wednesday at the Grandview Country Park.
Not only were Chamber members celebrating the increased membership, they celebrated the opening of the 78th annual Yakima Valley Fair and Rodeo. The five-day event opened at noon yesterday.
"We have come a long way," said Chamber President Jim Herriman.
Surrounded by the fresh smell of fair hamburgers, corn dogs and buttered Rotary corn-on-the-cob, the members applauded the adding of 13 new Chamber members, including the 120th Chamber member.
Honored as the 120th Grandview Chamber member was Bliss Tan, Hair and Nails, owned by Sal Mendoza of Grandview.
Mendoza opened his shop in May, but just recently joined the Chamber, said Herriman.
But how was the rebirth accomplished? According to long-time Chamber board member Cookie Shannon, sheer determination was key to the Chamber's revival.
"That and a shot of youth," she added.
"We believe in Grandview and want to promote our town," she said.
"But it takes bodies and strong leadership and now we have that as well," she said.
Shannon credits Benton REA Executive Mike Bradshaw with coming to the rescue of the Grandview Chamber.
"Mike is a great guy in my book," said Shannon.
"Benton REA gave the Chamber a substantial financial boost, which is what kept us alive," she added.
She also credits Herriman for his enthusiasm and leadership in helping to reorganize the Chamber.
Under Herriman's guidance, the Chamber board has shortened general membership meetings to one hour, and now conducts its board meetings, during which budget issues and other matters are handled, on a separate day. The board also decided to host interesting programs during its general membership meetings, Shannon added.
For example, meeting at the fairgrounds during fair week is one of Herriman's ideas.
"This is the second year we've met at the fairgrounds on opening day to have our general business meeting," Shannon said.
"It's gives us all a chance to preview the fair," she added.
Herriman said the rebirth of the Chamber can also be credited to members making an effort to step up and network.
"We've worked to make the Chamber a valuable organization. It's now an organization that promotes business and we've done that through networking," he said.
Also welcomed as new Chamber members were Dave's Recycling Center, AABCO Transmissions and Auto Sales, Molcajetes Family Mexican Restaurant, Clear Channel Radio - Yakima and Tri-Cities, Sharon Fisher, Joan Souders and Day Wireless.