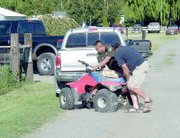 Sunnyside police served a search warrant on residents at 391 S. McLean Rd. late Wednesday afternoon, which resulted in the recovery of more than $70,000 worth of stolen property. Police believe the residence to be the center of an organized crime ring, which they say has been operating in the Lower Valley for the past five months.
Sunnyside police detectives, in conjunction with the Yakima Police Department and Yakima County Sheriff's Office, discovered what they described as a chop shop operation. Police believe the crime ring was responsible for a rash of thefts in Sunnyside, Grandview, Ellensburg and parts of Benton County, according to Sunnyside Police Chief Ed Radder.
Radder said the recovery of the stolen property coincides with the arrests of seven individuals, who face charges ranging from possession of stolen property to possession of methamphetamine with intent to deliver. Two of those arrested face disorderly conduct charges.
Wednesday, officers recovered a 2006 Tahoe, a 2003 Ford Explorer, two four-wheelers, a snowmobile, guns, a toolbox, a microwave, an electronic scale, controlled substances, including methamphetamine and marijuana. The police also recovered other items recognized as being stolen, along with records of the transactions involving the sale of the stolen property and the names of those buying the items.
Radder said the Sunnyside Police Department intends to charge those responsible with operating an organized crime ring.
Arrested on Wednesday on charges of possession of stolen property was Douglas Keith Irwin, 41, of 391 S. McLean Rd.
This past Sunday, Sunnyside police arrested William L. Bruhn of Sunnyside on charges of possession of methamphetamine and maintaining a drug dwelling. Also arrested Sunday was Richard L. Bermudez of Outlook on charges of possession of methamphetamine with intent to deliver. A third charge of possession of stolen property was added to the charges pending against Bruhn, Radder said.
Bruhn and Bermudez are believed to be involved in the crime ring, as are Juan Guerrero Jr., 35, of Granger and Michael Clark, 19, of Prosser, who were arrested Tuesday with stolen property in their possession, said Radder.
Also arrested in connection with the investigation were Amanda Austin and Misty Simmons, on charges of disorderly conduct. Both women were arrested at Bruhn's home on Maple Way earlier this week. Their connection to the stolen property is not known at this time, he added.
Radder said the investigation into the crime ring is ongoing and more arrests are expected to be made in the coming days.
"We know these individuals were involved with interstate trafficking of stolen property," Radder said. He credited Sunnyside detectives' efforts with thwarting at least one such transaction.
Radder said the recovery of some of the stolen property has been traced to several Yakima County cases involving thefts of equipment from Sunnyside and Outlook farms, as well as an Ellensburg car lot theft.
"Thanks to an Onstar navigation system in the 2006 Tahoe, we were able to recover the vehicle in the Darigold parking lot on Alexander Road yesterday," Radder said.