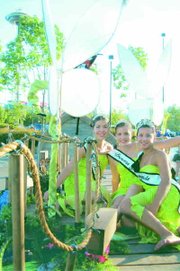 SEATTLE - The Miss Sunnyside Court has done an outstanding job of representing the community this year, but the four young ladies on this year's court really put their best foot forward at the illustrious SeaFair Torchlight Parade.
The torchlight parade is held in conjunction with the numerous SeaFair activities that take place in Seattle annually. This year's SeaFair event took place July 29-31.
The Miss Sunnyside Court, which consists of Miss Sunnyside Andrea Phillips and Princesses Jamie Durbin, Megan Cornelius and Jacqueline DeRuyter, not only dazzled the thousands and thousands of people who lined the streets of downtown Seattle, but also turned some of the heads of the judges involved with the parade.
The Miss Sunnyside Court, representing the community atop the "Lost in Neverland" float, won the best in show honors. It was one of the top honors from the 13 awards that were presented by judges in the torchlight parade.
"I thought that was really neat," said Phillips. "We had compliments (about the float) all day long, so we figured we were going to win something."
Phillips said the SeaFair Torchlight Parade is considerably different from the average parade a court might attend.
"They are really, really excited over there," said Phillips. "Over there they are saying all different kinds of things to you."
Phillips said the court knew many of the people who participated in the parade because they had been at other parades the Miss Sunnyside Court took part in.
Phillips said it was exciting to ride in the SeaFair Parade.
"We all had a lot of fun," she added.
The court left for the other side of the mountains the Friday before the SeaFair Parade. While in Seattle, the court had a chance to go downtown to The Cheesecake Factory and partake in the sweet delicacies.
"It is the best cheesecake ever," said Phillips. "That was our treat."
The girls also had a chance to take in some shopping in North Bend and get their hair done at a local beauty school to prepare for the parade.
"It was a long day," said Phillips. "It was very, very fun."
The Miss Sunnyside Court has a couple of more parade stops, coming at the Ellensburg Rodeo and in Prosser on Labor Day, before finishing up the year with Sunshine Days in mid-September.