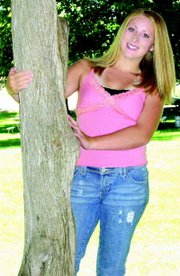 For the past couple of months Stacey Olivarez has spent a lot of time in the city pool, working on her tan and splashing around with a lot of other boys and girls.
It's a great way to spend the summer, Olivarez admits. But getting paid to swim all day is even better. Olivarez was one of a team of Sunnyside teens who spent their summer working as lifeguards at the Sunnyside Municipal Pool.
When not watching over the swimmers from her lifeguard station, Olivarez could be found doubling as a Sunnyside Recreation Department swim instructor. In her first year as a swim instructor, Olivarez spent each summer morning guiding minnows and pollywogs, the monikers given to beginning swimmers, through the rudiments of water safety.
It's a job she loved and one she hopes to do again next summer. But first, the Sunnyside High School junior wants to see if she can earn the right to be Miss Sunnyside.
Olivarez is one of six Sunnyside girls seeking the title of 2005-06 Miss Sunnyside. She will be competing for the crown and scholarships during the Miss Sunnyside Pageant to be held Saturday, Sept. 17, at the Sunnyside High School auditorium. The pageant is a part of the annual Sunnyside Sunshine Days celebration set for Sept. 16, 17 and 18.
In preparation for the pageant, Olivarez and her fellow candidates have been practicing a number of routines for what is sure to be a great pageant. "I'm nervous, but am also looking forward to performing in the pageant," she said.
Olivarez, who will perform a combination Latin hip hop-cumba dance for the talent portion of the September pageant, said last night's ride in the Grandview Community Parade was an event she'd looked forward to all summer.
"We also have opportunities to visit other pageants and it has been fun meeting other community queens and princesses," she added.
Olivarez is active at Sunnyside High School as the secretary of the pep club and as a member of Link Crew, a mentoring program for underclassmen.
In fact, mentoring to those younger than herself really appeals to the 16-year-old. Olivarez said if selected as the next Miss Sunnyside, she intends to promote the GEAR-Up program as her community service project.
"GEAR-Up is a great program for students who need help focusing on getting through high school. It also helps students learn how to go about preparing for college," Olivarez explained.
Olivarez, who plans a career in forensic science following high school graduation, said she likes GEAR-Up because it gives students opportunities to visit college campuses.
"It takes away some of the fear of going away from home if you know what college campuses look like," she added.
Olivarez said she decided to vie for the Miss Sunnyside title because she wants to be more involved in her community.
"This is a great place to live and I want to learn more about my home town," she added.
Olivarez is the daughter of Cynthia Olivarez of Sunnyside. She is being sponsored by Bell and Bridges, CPAs and Morris Floral of Sunyside.